DT-200-1C-PCS65
Cup
Slide
Pad
Printing
Machine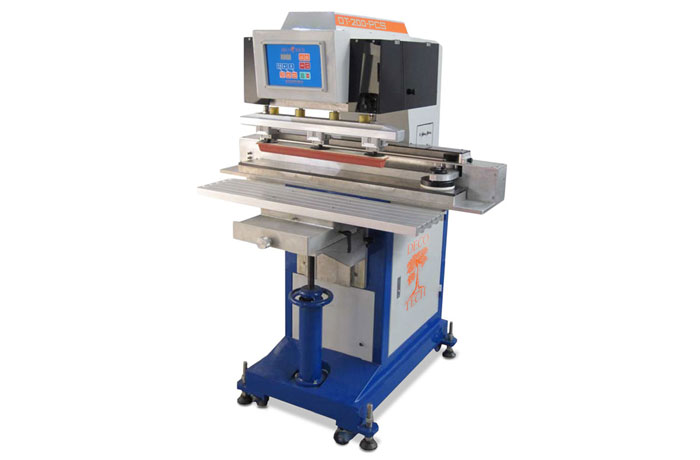 One color long image pad printing machine for catheters and other long items.
Machine Type: Catheter Pad Printing Machine
The DT-200-1C-PCS cup slide pad printing machine has been specifically designed to address the needs of the medical device manufacturing industry to pad print graduations or depth marks on catheter tubing. The closed ink cup travels sideways in a horizontal plane and during any stoppage the ink cup keeps cycling to keep the etched image wet and ready to print on the next cycle (activated via footswitch). The cliché length can be up to 1,000mm (39.37") long yielding a maximum print length of approximately 800mm (31.5"). There are four sizes to choose from. This DECO TECH pad printing machine is backed with a one year warranty against defects in manufacturing.

Call us at (714) 639-3326 or use the quote request form for a detailed price quote.
Features
Designed for pad printing on catheters and other long parts
Available in 4 standard sizes (see specifications)
Mitsubishi PLC Controlled with touch screen
Built with world class components including German Festo pneumatics
Easily accessible pad stroke adjustments
X/Y/R/Z work table
Equipped with heavy-duty Floor Stand with levelers
Smooth & quiet machine performance
Complies with CE safety standards
Specifications
| Technical Data | DT-200-PCS65 | DT-200-PCS85 | DT-200-PCS94 | DT-200-PCS100 |
| --- | --- | --- | --- | --- |
| Drive: | Pneumatic | Pneumatic | Pneumatic | Pneumatic |
| Printing Force: | 1,559N | 1,559N | 1,559N | 1,559N |
| Control system: | Mitsubishi PLC | Mitsubishi PLC | Mitsubishi PLC | Mitsubishi PLC |
| Main Voltage | 110V 60Hz. | 110V 60Hz. | 110V 60Hz. | 110V 60Hz. |
| Control voltage: | 12V | 12V | 12V | 12V |
| Weight: | 155 Kg (342 lbs) | 165 Kg (363 lbs) | 175 Kg (385 lbs) | 185 Kg (407 lbs) |
| Cliché Size: | 100 X 650mm | 100 X 850mm | 120 X 940mm | 100 X 1,000mm |
| Cliché Thickness: | 0.5 or 10mm | 0.5 or 10mm | 0.5 or 10mm | 0.5 or 10mm |
| Ink Cup Size (ID): | 90mm | 90mm | 110mm | 90mm |