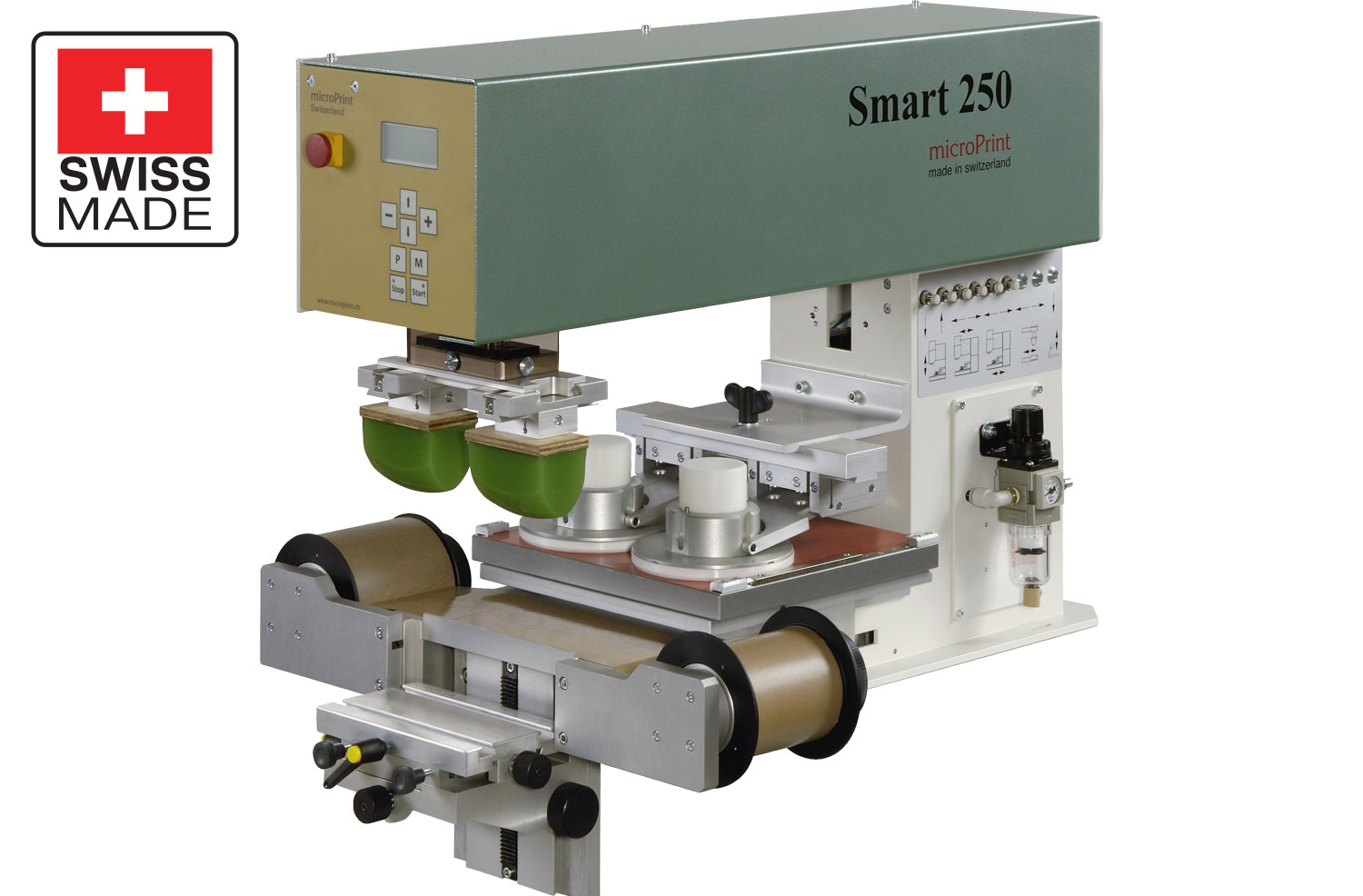 Machine Type: Pad Printing
Manufacturer: microPrint
Origin: Made in Switzerland
The microPrint SMART-250 is the "smart choice" when buying a new 1 to 4 color pad printing machine.

Typically most pad printing applications (80 to 90%) are 1 and 2 color jobs. With our low cost (but high-tech) SMART-250 pad printing machine you'll have the perfect pad print machinery for quality printing results. The SMART-250 is an easy to use pad printing press that can be equipped with or without tape pad cleaning device and all SMART SERIES pad printers are built with the finest world-class CE and ISO certified components for long trouble-free machine life. With laser welded steel frame construction, this robust SMART-250 pad printer is a true workhorse that will hold tight color-to-color registration for many decades to come.
Tape pad cleaning device (standard option)
Touch screen interface with LCD display
Adjustable two position pneumatic shuttle (option)
Open work area for fast set-ups & easy part loading
Fast cliché (print plate) changeover without tools
X/Y/R and Z (height) work table for fast job set-ups
Mount various ink cup sizes; 56, 70, 86 and 120mm
X/Y/R adjustable pad holders included
These SMART SERIES pad printing machines are "the industries best bargain". You get all the necessary features for out of the box printing plus the added security of a 3 year factory warranty from microPrint.
Specifications
Technical Data
SMART-250
Printing Capacity:
up to 2,000 pph
Drive:
electro-pneumatic
Printing Force:
max. 73 Kg
Air supply
5-6 bar (87 psi)
Air Consumption:
2.0 L/cycle
Control system:
micro-processor
Power connection:
110-240V 50-60 Hz.
Control voltage:
24 VDC
Weight:
50 Kg. (110 lbs.)
Plate size with ink cup:
260 x 250mm max.
Plate size with inkwell:
120 x 150mm max.
Plate Thickness:
0.5 or 10mm
Ink cup sizes (diameter):
4 x 56mm (2.20")
3 x 70mm (2.75")
2 x 86mm (3.38")
2 x 120mm (4.72")

Print sizes (diameter):


4 x 50mm (1.96")
3 x 60mm (2.36")
2 x 76mm (2.99")
2 x 110mm (4.33")