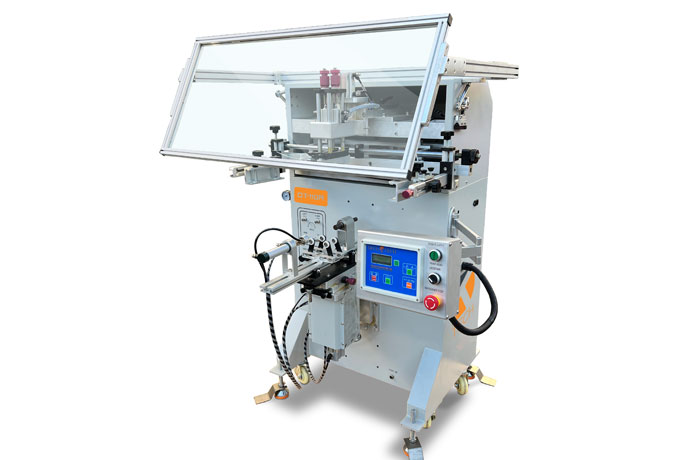 The DT-110R is a mid-sized semi-automatic screen printer for round objects up to 110mm diameter.
Machine Type: Semi-Automatic Screen Printing Machine
Brand: Deco Tech
Origin:Built in China with World-Class Components
The Deco Tech model DT-110R is primarily a semi-automatic bottle and container screen printer, but it is also capable of screen printing onto other cylindrical objects such as Stove and BBQ knobs, blow molded bottles and jars, cosmetic mascara tubes, perfume bottles, lipstick tubes, aluminum water bottles, drumsticks, glass pipettes, syringe barrels, etc.. The DT-110R features quick & simple tooling changeovers, precise mechanical registration & conveniently all controls are on the front touchscreen, making the DT-110R the perfect all around universal screen printing machine for round products. The DT-110R can also be tooled up to print on small flat items such as injection molded parts, cosmetic jar lids, ASI goods and similar. Call the experts at (714) 639-DECO to find out more.
Advantages
Pneumatic controlled with shock absorbers
Mitsubishi PLC controlled with touchscreen (new update for 2022)
Vertical part lift with height adjustment
Print stroke controlled with rodless cylinder
X/Y/R positioning ware-mounting table
Linear ball bearings on hardened shafts
Squeegee tilt, skew, and height adjustable
Screen frame angle & tilt adjustable
Synchronized bottle inflation system with regulator
Regulated squeegee pressure with pressure gauge
Floor levelers & casters
Foot switch controlled
Specifications
Technical Data
DT-110R
Drive System:
Pneumatic
Frame Up/Down Stroke:
100mm (3.94")
Dimensions (L x W x H):
1,310 x 1,010 x 1,315mm (51.57" x 39.76" x 51.77")
Maximum Print Area Round:
Maximum Print Area Oval:
Maximum Print Area Flat:
110mm (4.33") Ø
340mm (13.39") Arc Length
200 x 320mm (7.87" x 12.60")
Working Table Size:
250 x 400mm (9.84" x 15.75")
Table Adjustment:
X,Y ± 15mm / θ 15 °
Maximum Screen Frame Size:
380 x 580mm (14.96" x 22.83")
Screen Frame Thickness:
18 - 25mm (.71" - .98")
Squeegee Angle:
0-15°
Printing Cycle Speed:
1,200 cycles/hr
Squeegee Speed:
20/min
Squeegee Pressure:
2 - 4 Bar
Electric Source:
110V/220V 50-60Hz 50W
Air Pressure Input:
80 psi
Air Consumption:
0.7 L/cycle
Machine Weight:
150 kg (330.69 lbs)
Machine Weight (including crating):
230 kg (507.06 lbs)
Crate Dimensions:
980 x 1,050 x 1,430mm (38.58" x 41.34" x 56.30")