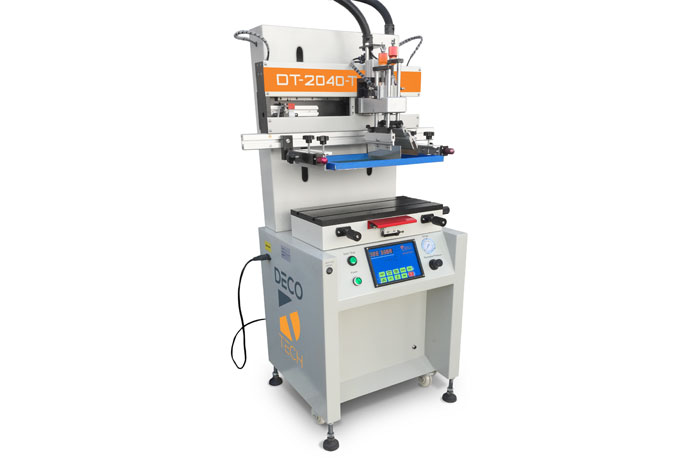 The Deco Tech model DT-2040-T and DT-2040-V are two variations of our standalone screen printing press, that is either equipped with a T-Slot worktable or a Vacuum table for printing sheets.
Machine Type: Small Format Standalone Flatbed Screen Printing Press
Origin: Made in China with world class components and upgraded safety equipment
The Deco Tech model DT-2040 is a compact standalone semi-automatic flatbed screen printer that features a smooth operating Festo brand pneumatic drive system for both the vertical and horizontal strokes. The screen frame is lifted up & down vertically, which keeps the screen printing ink in the "print zone", making this a much better design than a clam shell style screen printing press, where the ink constantly runs to the back of the screen frame. Furthermore, this flat vertical screen lifting method allows the operator to better view the parts being loaded and unloaded for faster visual inspection. This small format screen print press is well suited for printing on injection molded parts & Advertising Specialty Items (ASI). This machine is used to screen print on parts such as cigarette lighters, ice scrapers, flying discs (aka Frisbee®), first aid kit boxes, Lexan® polycarbonate countertop display boxes, plastic business cards holders, textile sheet material, and much more. It is also perfectly suited for screen printing on industrial goods such as circular saw blades, chain saw guide bars, stamped metal panels, formed metal chassis, and exterior automotive components. The horizontal printing axis is controlled via a Festo brand rodless cylinder, and this DT-2040 screen printing press is easily adjustable with quick release stop guides for stroke length. This compact screen printing machine is equipped with a X/Y/R adjustable worktable and features an OSHA approved E-Stop safety bar located just in front of the work area. The DT-2040 screen printing presses are available in the "T" version, with Tee slots for mounting an rigid molded part or a stamped metal part, or in the "V" version, equipped with a vacuum table to hold down lightweight paper sheets, plastic sheets, textile sheets or card stock.
Festo Brand pneumatics with shock absorbers
Mitsubishi PLC controlled with touchscreen (new update for 2022)
Vertical head lift with height adjustment
Integrated E-stop safety bar
X/Y/R positioning table with or without vacuum table
Linear ball bearings on hardened shafts
Adjustable squeegee angle and height
200 x 370mm (7.87" x 14.57") print area
Regulated squeegee pressure with pressure gauge
Integrated Machine base with adjustable floor levelers
Specifications
Technical Data
DT-2040-T/V
Printing Capacity:
Up to 1,100 cycles/hr
Drive:
Electro-Pneumatic
Maximum Print Area (L x W):
200 x 370mm (7.87" x 14.57")
Max. screen frame size (L x W):
350 x 700mm (13.78" x 27.56")
Vacuum table size (L x W):
180 x 430mm (7.09" x 16.93")
Screen Frame Thickness:
50.8mm (2")
Screen Adjustment:
X,Y ± 10mm / θ 1.8°
Print stroke (Left & Right):
400mm (15.75")
Squeegee Pressure:
2-4 Bar
Air Pressure Input:
80 psi
Air Consumption:
150 L/minute
Electrical Source:
120V 1 Phase
Weight:
150 kg (331 lbs)
Dimensions:
700 x 600 x 1.350mm
(27.56" x 23.62" x 53.15")