We manufacture precision part holding or "nesting fixtures" for your pad printing, screen printing, and digital printing jobs. From our in-house machine shop we can custom build all of your part nesting fixtures, and we provide fast turn-around. Whether you need one or multiple part holding fixtures we can build you the right tooling at the right price!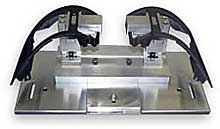 Automotive
A/C
Vent
BezeL
Here is a two-up fixture that was built for pad printing BMW air conditioning vent panels. This fixture is custom fabricated, and the print area is fully supported to allow for perfect registration of the graphics printed.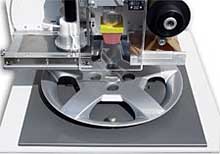 Wheel
Cover
Fixture
This is a custom machined aluminum fixture that we designed for printing the wheel covers on Chevrolet cars. This is a pad printing machine & fixture we provided that is printing the gold Chevy bowtie icon. This fixture is designed so that the operator can only load it in the proper orientation to print on the raised bowtie graphic.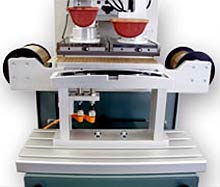 Automotive
Bezel
Fixture
This is a fixture that we built for pad transfer printing onto the Toyota Sienna van and this fixture is outfitted with an optical sensor to ensure proper part loading and can automatically detect between two different part configurations. The pad printing machine was specially programmed to allow for this automatic detection on this automotive bezel.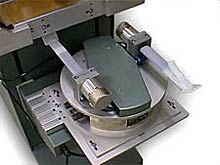 Medical
Device
Fixture
on
two-position
Rotary
Table
These fixtures were CNC machined to hold two of the same medical devices and both fixtures feature automatic part rotation (180°). The parts are printed on both the front and back with single color pad printing inks from Printcolor.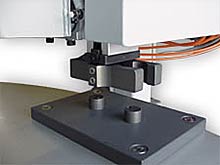 Nesting
Fixture
with
Robotic
Grippers
This is a two-up nesting fixture that was designed by Deco Tech for printing onto cosmetic caps. This fixture is ported to allow for vacuum hold-down of the caps and these 8 fixtures were CNC machined and mounted to a rotary table system. The two-up grippers were also CNC machined and all parts are hard anodized for long-life.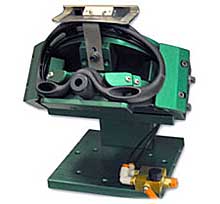 Specialty
Fixture
with
Adjustability
This unique fixture was designed to allow for pad printing onto injection molded goggle frames in several locations. The entire fixture can be easily rotated and angled to allow printing in four different locations. This fixture was also outfitted with a vacuum system to accurately hold down the goggles without movement.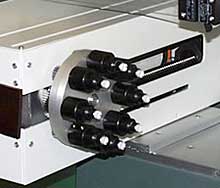 8
Station
Vertical
Rotary
Indexer
This unique vertical rotary table system is designed for pad printing miniature graphics onto very small electronic parts. This fixture automatically rotates, and the top part is printed each cycle and a part is automatically ejected into a bulk bin.