Pad
Printing
Ink
Cups
&
Rings
We offer both hard steel & ceramic pad printing ink cups and rings for microPrint, Deco Tech and a wide variety of name brand pad printing machines.
The microPrint pad printing ink cups and rings are the finest quality cups in the world, and they are precision CNC machined in Switzerland and they provide superior quality doctoring. We offer ink cup rings ranging in size from 40mm to 180mm. Check our ink cup size chart below.

In addition to selling pad printing ink cups and rings, we also sell CNC machined aluminum ink cup housings (microPrint and Deco Tech brands), with magnetic hold down. Please note, we have also been successfully in retrofitting the superior microPrint brand of ink cups to mount onto several other brands of pad printing machines and these Swiss made ink cups greatly improved the ink doctoring performance of these various machines.
Why
do
microPrint
pad
printing
ink
cups
perform
better?
microPrint pad printing ink cups are outfitted with powerful magnets positioned around the outer perimeter of the ink cup, which provides precise doctoring on all types of clichés. This is especially true when comparing against ink cups that have a magnetic plug in the center.
By utilizing small magnets, the microPrint ink cups give cleaner doctoring strokes vs. ink cups with a single large magnet in the center.
Large diameter center opening gives you a lot of open area to add ink to the cup from above, vs. having to put ink or thinner into a small threaded port hole.
With this large open area, you can easily pour the ink into the cup, even when it is mounted on the machine. Competitors ink cups require you to turn the cup outside down and place ink inside (a difficult task).
No special tools are required for setting up a microPrint ink cup. The cup is held down with magnet pressure or with (optional) pneumatic pressure. Either way, simply click the cup into the holder and begin.
microPrint offers both hardened steel rings or ceramic rings. The hardened steel rings never need to be honed or sharpened and our ceramic materials are very precise. Here is the general rule when selecting a cup ring type; hard steel rings work best on thick and thin steel clichés and ceramic rings work best on all types of photo polymer and laser clichés.
Pad
Printing
Ink
cup
housing
&
ring
chart
of
available
sizes
| Sizes & item description | Print size | Item #: |
| --- | --- | --- |
| 40mm (1.57") - Magnetic cup housing with O-ring | 30mm Ø (1.18") | MP2310040 |
| 40mm (1.57") - Replacement hard steel ring | 30mm Ø (1.18") | MP2312040 |
| 56mm (2.20") - Magnetic cup housing with O-ring | 46mm Ø (1.81") | MP2310056 |
| 56mm (2.20") - Replacement ceramic ring | 46mm Ø (1.81") | MP2314056 |
| 56mm (2.20") - Replacement hard steel ring | 46mm Ø (1.81") | MP2312056 |
| 70mm (2.75") - Magnetic cup housing with O-ring | 60mm Ø (2.36") | MP2310070 |
| 70mm (2.75") - Replacement ceramic ring | 60mm Ø (2.36") | MP2314070 |
| 70mm (2.75") - Replacement hard steel ring | 60mm Ø (2.36") | MP2312070 |
| 86mm (3.38") - Magnetic cup housing with O-ring | 76mm Ø (2.99") | MP2310086 |
| 86mm (3.38") - Replacement ceramic ring | 76mm Ø (2.99") | MP2314086 |
| 86mm (3.38") - Replacement hard steel ring | 76mm Ø (2.99") | MP2312086 |
| 120mm (4.72") - Magnetic cup housing with O-ring | 110mm Ø (4.33") | MP2310120 |
| 120mm (4.72") - Replacement ceramic ring | 110mm Ø (4.33") | MP2314120 |
| 120mm (4.72") - Replacement hard steel ring | 110mm Ø (4.33") | MP2312120 |
| 140mm (5.51") - Magnetic cup housing with O-ring | 130mm Ø (5.12") | MP2310140 |
| 140mm (5.51") - Replacement ceramic ring | 130mm Ø (5.12") | MP2314140 |
| 140mm (5.51") - Replacement hard steel ring | 130mm Ø (5.12") | MP2312140 |
| 160mm (6.30") - Magnetic cup housing with O-ring | 150mm Ø (5.90") | MP2310160 |
| 160mm (6.30") - Replacement hard steel ring | 150mm Ø (5.90") | MP2312160 |
pad
printing
Ink
Cup
Rings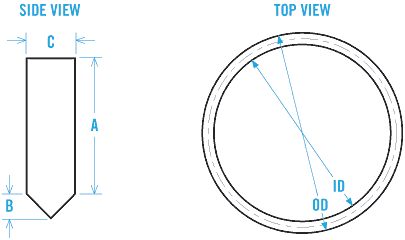 pad
printing
Ceramic
Ink
Cup
Rings
| Size | A | B | C | OD | ID |
| --- | --- | --- | --- | --- | --- |
| 56mm (2.20") | 9.10 | 3.3 | 3.0 | 62 | 56 |
| 86mm (3.38") | 9.45 | 3.3 | 3.0 | 92 | 86 |
| 120mm (4.72") | 9.50 | 3.3 | 3.5 | 127 | 120 |
| 140mm (5.51") | 9.40 | 4.0 | 4.0 | 144 | 135 |
pad
printing
Hard
Steel
Ink
Cup
Rings
| Size | A | B | C | OD | ID |
| --- | --- | --- | --- | --- | --- |
| 56mm (2.20") | 8.8 | 2.5 | 3.0 | 62 | 56 |
| 70mm (2.75") | 9.0 | 3.0 | 3.0 | 72 | 66 |
| 86mm (3.38") | 9.0 | 3.0 | 3.0 | 92 | 86 |
| 120mm (4.72") | 8.7 | 3.5 | 3.5 | 127 | 120 |
| 140mm (5.51") | 9.0 | 3.9 | 4.0 | 144 | 135 |
| 160mm (6.30") | 9.0 | 3.0 | 3.0 | 162 | 156 |