Silicone
Pad
Printing
Pads
We manufacture high quality silicone transfer pads for pad printing applications in hundreds of shapes, hardness' & durometers.
DECO
TECH
Silicone
Formulations:
DuraPro™
silicone
pads
-
Premium
Quality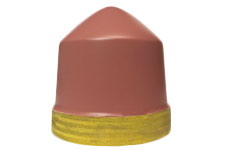 In 1997 we developed our premium quality DuraPro™ silicone pad formulation which is made from the highest quality German made silicone rubber material and it produces excellent prints with extreme durability. The secret formula to our DuraPro™ formulation cannot be revealed, but you'll find that they have been optimized for continuous flexing and will provide consistent and repeatable ink lay-down. This is the "industry standard" material that all other pads are measured against. Our DuraPro™ silicone has excellent abrasion resistance, excellent chemical (thinner) resistance (and it doesn't swell up), and it provides excellent flexibility/ cut resistance. The DuraPro™ silicone provides superior ink release qualities and this silicone formulation works extremely well with two-components inks, single component inks and UV pad printing inks. Our DuraPro™ silicone rubber pads are available in 65 to 20 Shore A (00 scale) hardness's.
Stat-X™
silicone
pads
-
High
Quality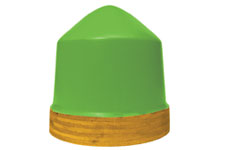 Static energy is the #1 enemy in achieving quality printing results in pad printing and standard issue silicone pads can quickly become charged with static energy during production. When a silicone transfer pad is loaded with static, it will easily collect dust particles and debris, which will stop you from achieving sharp prints with clean edge-definition. Static energy causes a phenomenon known as "spider webbing" where you will see little web-like trails of ink being diplaced and printed around the edges of your artwork. A static charged pad can also cause static-discharge while printing on sensitive electronic devices resulting in circuit failure. Our Stat-X™ pad formulation has been developed using conductive silicone polymers and fillers that cannot be static-charged. Due to these anti-static properties, no dust particles or debris will be collected on the pad surface, and the possibility of static-discharge is eliminated. End-result is that, Stat-X™ pads eliminate static energy and the Stat-X™ pads deliver sharp, fine-line detailed prints. Our Stat-X™ silicone rubber formulation is available in 65 to 40 Shore A (00 scale) durometer.
Printz™
formulation
pads
-
High
Quality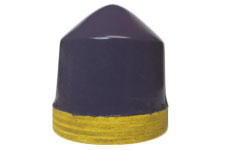 Our Printz™ rubber formulation is quickly becoming our most popular silicone pad material, as it is priced extremely well and it performs at a high level, even when compared to pad materials that cost much more. This Printz™ silicone is easy to recognize with its distinctive "purple rain" color and it is quick to break in, provides full definition ink pickup and transfers all types of pad printing inks very well. Our Printz™ silicone will have you singing high praises as it is a rock-star in our star-studded line-up. Contact your local sales rep to request a free pad sample of our newest Printz™ material. The Printz™ silicone rubber material is available in 65 to 40 Shore A (00 scale) durometer.