Specialty
Pad
Printing
Solutions
SPECIALIZED PAD PRINTING EQUIPMENT: microPrint designs and builds a variety of custom pad printing machinery that are useful for unique pad printing applications. The 5-STAR is a programmable 1 to 5 color servo indexed pad printing work station that offers the maximum in flexibility and is the perfect machine for an injection molding house with a variety of pad printing jobs. The SELECTA-150 is a multi-axis CNC digital "typewriter" that allows you to pick up and print variable data on your products. The MSS Series of machines are 90° swivel pad printers that swing the pad(s) horizontally.applications. The SMART Series has touch screen interface with LCD display and is available with automatic pad cleaning device.microPrint manufactures Swiss quality pad printing machinery that is outfitted with several unique QC features that take pad printing to a whole new level
Standard
Automation
Components
microPrint of Switzerland has a range of both standard and custom automation accessories that interface with their pad printing machinery. These solutions include rotary table indexers, oval racetrack indexers, linear motor driven or pneumatic part or pad shuttles, pad actuators/ lifters, multi-axis 3D robotic part manipulators and much more. microPrint are experts in providing turn-key automation solutions for your automated pad printing needs.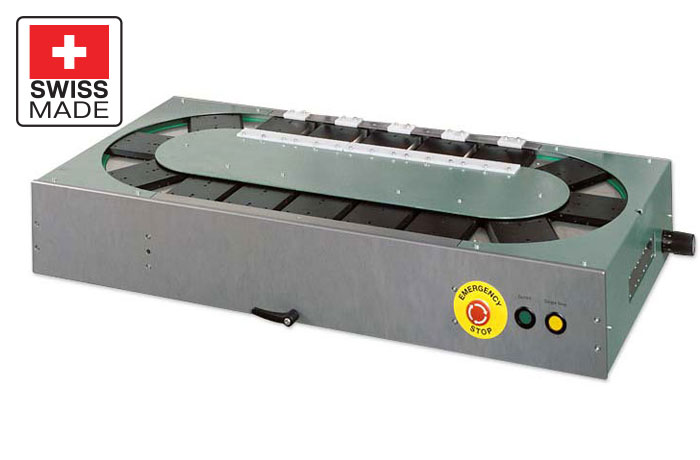 Servo-driven racetrack indexer for microPrint brand pad print machinery.
Read more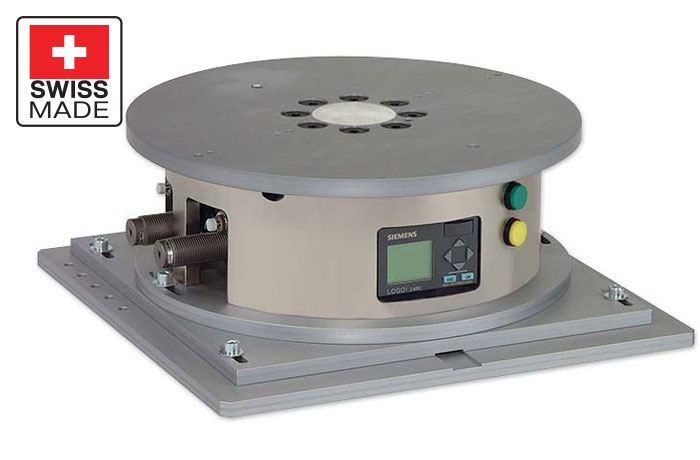 microPrint two station pneumatic rotary indexing table for faster part loading.
Read more