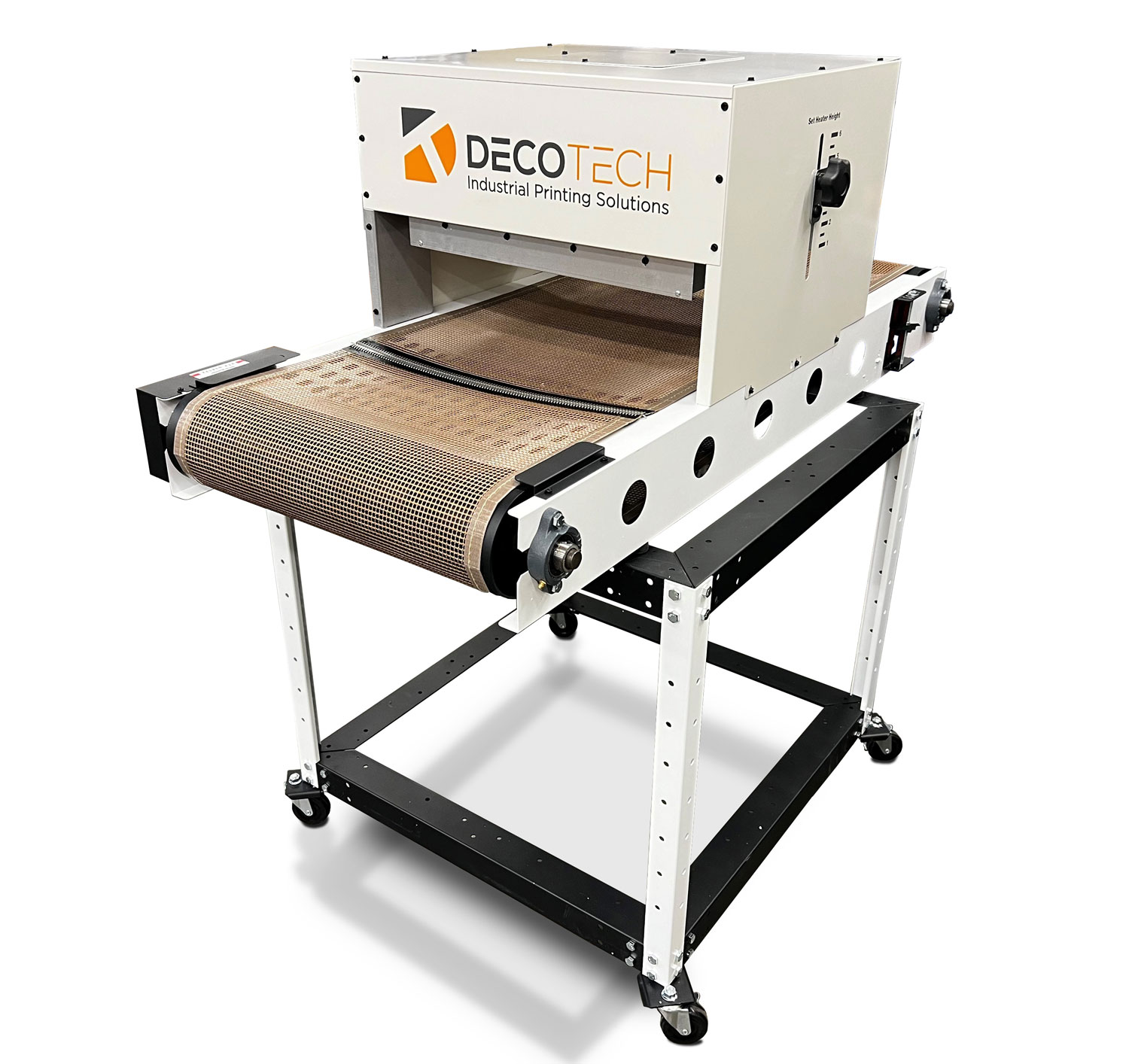 Machine Type: Compact Drying Conveyor
Origin: American Made
The DECO TECH DT-100-IR is a compact infrared drying conveyor is the smart choice for quickly curing your pad printed parts. The DT-100-IR dryer takes up less than 8 feet square and you can place this compact drying unit right alongside a molding press next to your pad printing machinery. The DT-100-IR features an 18" (460mm) wide Teflon coated fiberglass belt with a straight-tracking system to keep the belt running smooth and straight. The DT-100-IR dryer is fully adjustable with separate controls for belt speed, temperature control, heater height and heater tilt angle (for angled parts). DT-100-IR is equipped with a powerful infrared heater with a dense coil pattern and heater shields with an output of 6.35 Watts per square inch, which eliminates hot and cold spots and provide the power you need to get the job done. The IR unit itself comes with a 15 YEAR WARRANTY and all other components are warrantied for 1 year. To request a quote or get more information please feel free to contact us at (714) 639-DECO.
Specifications
| Technical Data | DT-100-IR |
| --- | --- |
| Cycle rate: | 4-6 fpm |
| Drive: | Electro-mechanical |
| Main Voltage (US): | 120V (NEMA 5) 6.5A or 208/240V (NEMA 6) 12.5A |
| Machine Weight: | 200lbs. |
| Machine Dimensions (LxWxH): | 46" x 24" x 24" |
| Wattage: | 1,625 Watts (1.625 KW) |
| Belt Width: | 18" |
| Conveyor Length: | 46" |
| Tunnel Length: | 18" |