DT-1000-JUMBO
Multi
Color
Automatic
Screen
Printing
Machine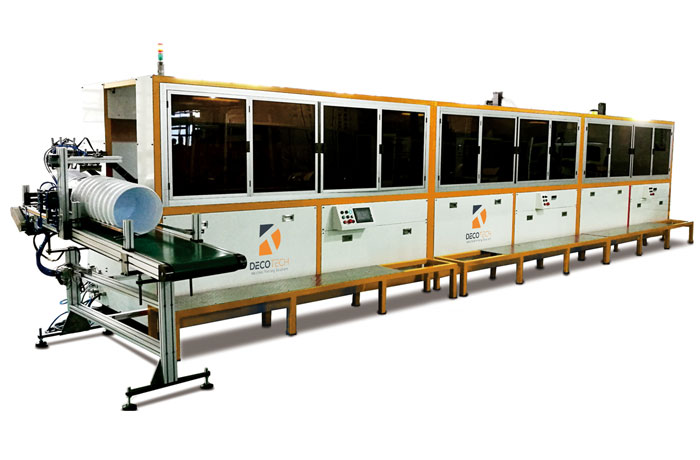 Automatic UV screen printer for screen printing on 1 to 5 gallon buckets.
Machine Type: Automatic Screen Printing Machine for buckets
Brand: Deco Tech
Origin: Built in China with World -Class components
The DECO TECH DT-1000 JUMBO series of precision automatic UV container screen printing machines feature a MOTOVARIO/SITI motor controlled linear walking beam system that is solidly built to provide accurate color to color print registration (±0.3-0.5mm) with print speeds up to 22 pcs per minute. Round buckets are placed onto the infeed conveyor where they are automatically separated, and automatically oriented and transported into the screen printing machine. Once buckets enter the DT-1000 JUMBO machine they are automatically flame treated with two flame treating heads, and fed through each of the subsequent printing and UV curing stations. This machine is available with 1-6 colors.
Features
1 to 6 color automatic UV screen printing machine for buckets
Print speeds up to 22 buckets per minute
Screen Prints on round containers
Panasonic PLC & Omron Touch Screen
HPE UV System, 5KW
Main drive MOTOVARIO/SITI
Integrated flame treating
Specifications
| Technical Data | DT-1000-JUMBO (1 Color ) | DT-1000-JUMBO (2 Color) |
| --- | --- | --- |
| Drive: | Mechanical Driven | Mechanical Driven |
| Max Print Area (LxW): | 900 x 250mm (35.4" x 9.8") | 900 x 250mm (35.4" x 9.8") |
| Max. Print Speed: | 22 pcs/min | 22 pcs/min |
| Registration tolerance: | +/- 0.3-0.5 mm | +/- 0.3-0.5 mm |
| Infeed conveyor: | 2 meters | 2 meters |
| Flame treating system: | 2 units, LP gas | 2 units, LP gas |
| Main Motor: | ITALY MOTOVARIO/SITI | ITALY MOTOVARIO/SITI |
| UV system: | HPE UV System, 5KW | HPE UV System, 5KW per ea. |
| Outfeed conveyor: | 2 meters | 2 meters |
| Control system: | Panasonic PLC & Omron Touch Screen | Panasonic PLC & Omron Touch Screen |
| Electrical: | 380V-480V 3phase 50Hz-60Hz | 380V-480V 3phase 50Hz-60Hz |
| Dimensions (LxWxH): | 5802x1510x2300mm (228.4" x 59.4" x 90.6") | 8704x1510x2300mm (342.7" x 59.4" x 90.6") |
| Weight: | 2500 KG (5511 lbs) | 4300 KG (9480 lbs) |