DT-767
Multi
Color
Automatic
UV
Screen
Printing
Machine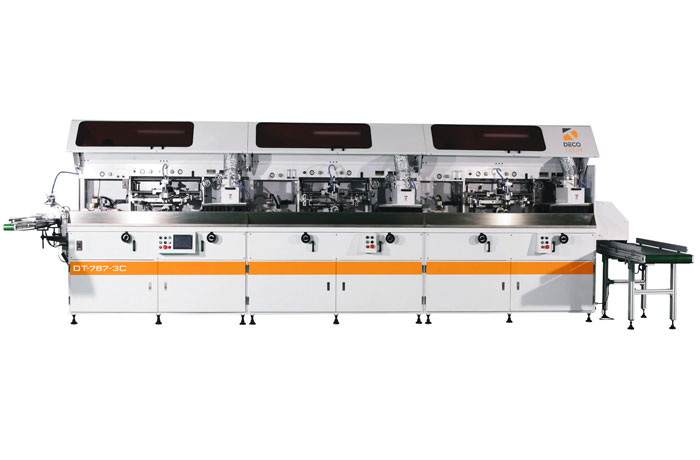 The DT-767-1 to 6 color automatic UV bottle screen printing machine.
Machine Type: 1 to 6 color automatic UV bottle screen printing machine.
OVERVIEW
The DT-767-1 to 6 color automatic UV bottle screen printing machine features a linear walking beam transport system that is DC motor controlled. These precision DT-767 Series automatic bottle screen printers are well suited for single or multi-color screen printing on round, oval and flat containers. The systems robust welded steel-framed body provides solid vibration free production with accurate (±0.1mm) color to color registration and provides a high-quality UV cured ink deposit directly onto your bottles, cups or jars. Production speeds are up to 70 bottles per minute (4,200 per hour) and we offer an optional automatic bowl feeder which automatically sorts and feeds the plastic bottles into the automatic screen printing line, where they are automatically flame treated (corona treatment and deionization are also available), pre-registered and then automatically fed through each of the subsequent print heads and UV curing stations. At the end of the line they are automatically ejected and taken away from the printer on an out-feed conveyor.
The DT-767 Series of Automatic UV Bottle Screen Printing systems are available in 1 to 6 color versions.
WORLD CLASS COMPONENTS = HIGH UP TIME -
The DT-767 Series of automatic UV screen printers are outfitted with only high quality components and equipped with lifetime sealed bearings and these features keep the time required for routine maintenance to a minimum. For the systems PLC controls we utilize Panasonic brand PLC and touch screen as standard equipment or you have the option to upgrade with the American standard Allen-Bradley for both PLC and touch screen as well. The main drive motor is a heavy-duty DC motor built in Europe by Motovario and the UV curing lamps are now Heraeus Fusion brand F series units that are built here in America. For added up-time these machines are also equipped with a "no-part-no-print" sensor which prevents the squeegee from operating if no bottle is present in the print station(s), which eliminates production down time by having to stop production and clean the bottom of the screen mesh.
HIGH QUALITY PRINTING -
The tight color to color registration found on our DT-767 Series machines is made possible by use a precision mechanical cam driven "walking beam" indexing system with precisely timed motor driven mechanically linked controls for the screen print heads and bottle transport. During the part transportation into the printing stations, the bottles are securely lifted and held firmly via a high power vacuum transport device as the containers are placed into CNC machined tooling (equipped with a one-way clutch) and they are directly driven to precisely rotate the bottles while ink is being deposited. Note: It is an industry standard feature to have registration ramps or "lugs" on the bottom of your containers to ensure accurate handling and print area location (ie: avoid printing on the bottles seam line).
SHORT SET-UP TIMES -
Being a mechanically indexed system makes it easy to set up and change-over for a variety of bottle sizes and types. There are only a few adjustments required to change bottle sizes and those steps are as follows: 1) Change out the print gear to match the diameter of your container 2) Adjust the walking beam for bottle height and the same on the bowl feeder, 3) Change the vacuum transport chuck blocks (when necessary), 4) Change or adjust the pick & place grippers/ guides (when necessary), 5) Adjust the flame treater height and 6) Adjust and align the screen frame/ off-contact height. Once trained it takes about 15 to 30 minutes per color to set up this machine and do a complete bottle changeover.
Specifications
Technical Data
DT-767-1/6 Series
Round container dimensions:
Diameter: 130mm max (5.12")
Height: 260mm max (10.24")
Printing dimensions (LxW):
260mm x 200mm Max (10.24" x 7.87")
Production speed:
Up to 3,960 pph
Air consumption:
85 liter/ minute
Air pressure:
5-7 bars
Power consumption:
5.4KW (Each Color Station)
Electrical:
220 Volt - 3 Phase, 60 Hz
Technical Data
DT-767-1
Weight:
1,600 kg (3,527 lb)
Footprint (with bowl feeder):
Length: 6,300mm (20'8")
Width: 1,800 (5'11")
Height: 1,700mm (5'7")
Technical Data
DT-767-2
Weight:
3,200 kg (7,055 lb)
Footprint (with bowl feeder):
Length: 8,400mm (27'7")
Width: 1,800 (5'11")
Height: 1,700mm (5'7")
Technical Data
DT-767-3
Weight:
4,800 kg (10,582 lb)
Footprint (with bowl feeder):
Length: 10,500mm (34'6")
Width: 1,800 (5'11")
Height: 1,700mm (5'7")
Technical Data
DT-767-4
Weight:
6,400 kg (14,110 lb)
Footprint (with bowl feeder):
Length: 12,600mm (41'4")
Width: 1,800 (5'11")
Height: 1,700mm (5'7")
Technical Data
DT-767-5
Weight:
8,000 kg (17,637 lb)
Footprint (with bowl feeder):
Length: 14,700mm (48'3")
Width: 1,800 (5'11")
Height: 1,700mm (5'7")
Technical Data
DT-767-6
Weight:
9,600 kg (21,164 lb)
Footprint (with bowl feeder):
Length: 16,800mm (55'2")
Width: 1,800 (5'11")
Height: 1,700mm (5'7")