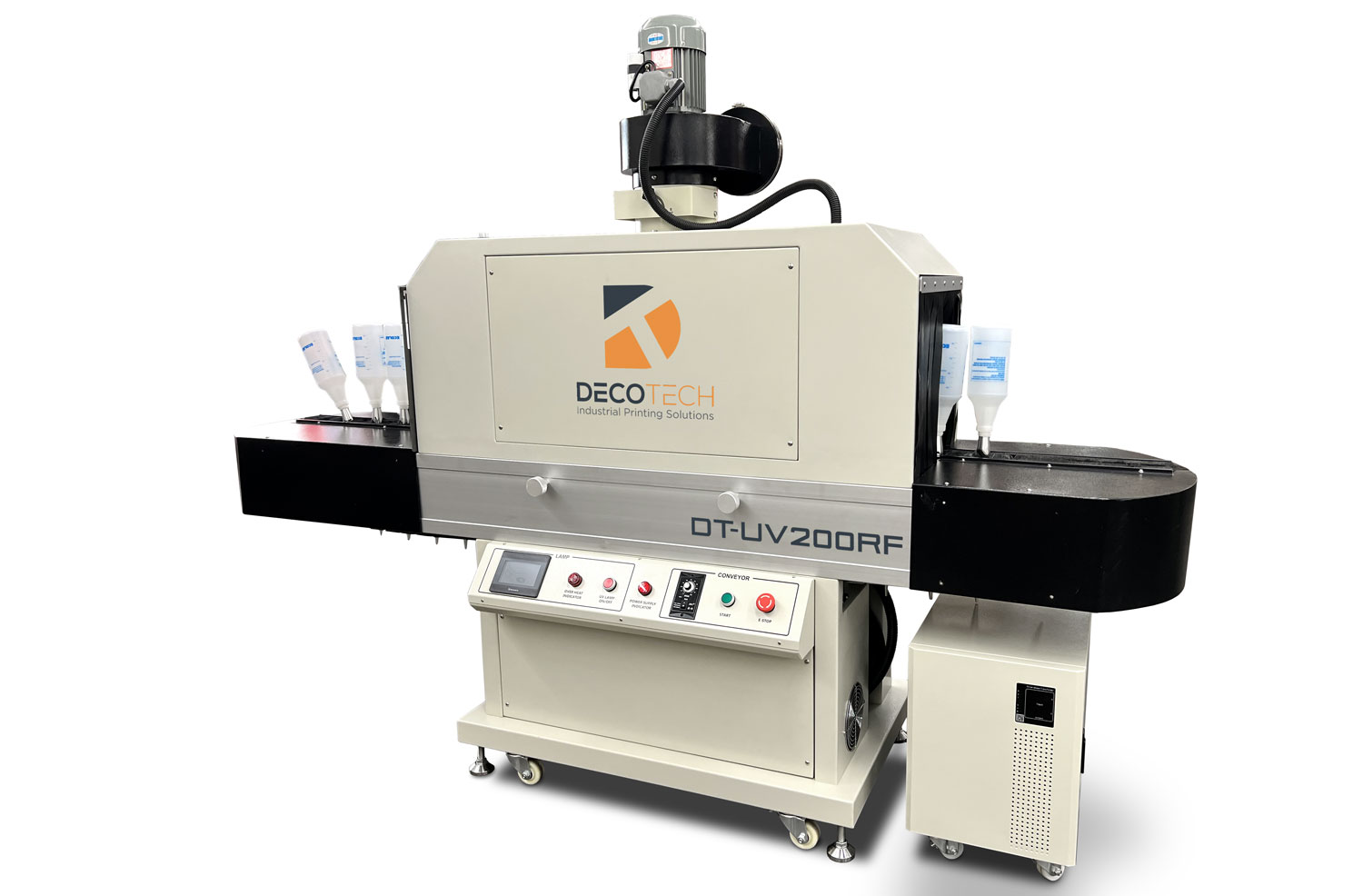 Universal UV Curing Conveyor for both Flat & Cylindrical objects.
Machine Type: Ultraviolet Curing System for bottles and injection molded parts
Brand: Deco Tech
Origin: Built in China with World-Class Components
Our brand new for 2023 model DT-UV-200RF was designed by Deco Tech to give our screen printing and pad printing customers a more flexible UV curing unit that can cure both round and flat products. This universal UV curing conveyor can cure UV inks on a variety of products such as blow molded bottles, jars, and other cylindrical objects. The series of tapered pins are mounted on the stainless steel belt and there is a rack and gear system that spins the bottles in front of the single UV lamp. This same UV curing system can also be used for flat or 3D injection molded parts, simply by rotating the UV lamp 90 degrees and adjusting the lamp height to optimum curing distance. The DT-UV-200RF (RF=Round & Flat) is controlled via PLC and touch screen and you can adjust the UV lamp power and set it at 3KW, 4KW or 5KW power output. Furthermore, the speed of the conveyor can be fully controlled from 0 to 100 FPM (up to 3,000 bottles per hour). The infeed side of the conveyor has adjustable doors to reduce the chance of light leaking into the working environment and on the outfeed side it is equipped with two sets of slit nylon drapes to allow the product to pass thru freely without letting any UV light leak out.
Specifications
| Technical Data: | DT-UV200RF |
| --- | --- |
| Drive System: | Electric |
| Bottle mouth size: | Round: Min 8Ø Max 30mmØ |
| Bottle body size: | Max. 180mmØ, Height 25-400mm |
| Flat product size: | Max width 290mm (Usable curing area approximately 230mm), Max part height 140mm |
| Max. Production Speed: | Up to 3,000 pcs per hour |
| Voltage: | 380V 60 Hz, 1 Phase, 30 Amps (can be supplied with a transformer) |
| UV Lamp: | One lamp, 5 KW, PRIMARC brand |
| Conveyor Belt Length: | 2100 mm |
| Machine Size: | L2200xW630xH1600 mm |
| Crated Size: | L2470xW790xH1880 mm |
| Net Weight: | 350 KG |
| Gross Weight: | 450 KG |