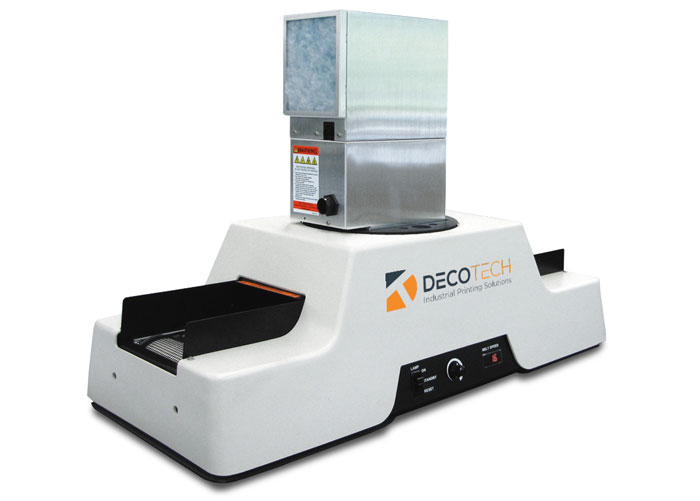 Machine Type: Compact UV drying conveyor
Origin: American Made
Manufacturer: DecoTech
The Deco Tech LC-6B bench top UV drying conveyor provides the right solution for curing UV pad printing inks. The Deco Tech LC-6B UV curing unit is perfectly suited for your daily production needs and it is also well suited for use in a lab environment, where it can be used for testing UV adhesives, UV cured inks and UV coatings. The LC-6B UV curing unit can cure (dry) a variety of materials and substrates and is perfectly suited for the UV curing of inks on 3 dimensional injection molded parts. Parts can be up to 8-1/2" wide with an effective UV curing width up to 6" wide and the UV lamp and housing are fully adjustable to accommodate parts up to 3" in height.

These UV conveyor units are outfitted with a Heraeus Fusion brand model F300 UV lamp system which is the American industry standard. The LC-6B features a unique and simple mechanism which allows the lamp to be rotated and set to various angles and furthermore it can be easily raised and lowered to vary its distance from the part. The LC-6B conveyor unit uses airflow through the Teflon coated open mesh belt to provide cooling and to help keep small sheets or small molded parts in place throughout the curing process. An internal exhaust blower assists with part cooling, and the one-piece molded cowling provides easy access to internal components for servicing. In addition to the LC-6B model there is a choice of 4 models, and speed ranges from 0.3 feet to 250 feet per minute (0.1 to 75 m/min). The belt speed is displayed by a digital indicator on the front panel and is easily adjusted. Call the experts at (714) 639-DECO to learn more.
Specifications
Technical Data
LC-6B
Normal Width:
6" (152mm)
Lamp Position:
Rotatable, 360° Vertical adjustment focus at belt surface to 4"(100 mm) beyond focus.
Overall Length:
42" (1070 mm)
Overall Width:
20" (510 mm)
Overall Height:
W/o lamp: 12.2" (310 mm)
With: 27.4" (695 mm)
Weight:
W/o lamp: 55 lbs.
Belt:
.25" woven Teflon®-coated Kevlar® fiber, carbon impregnated, with unique fold-back loop seam.
Belt Travel Direction:
Right to left standard
Speed Indicator:
Digital, in ft/min or m/min
Speed Ranges:
Two Models:
Low Speed range is .03 to 23 ft/min
Standard Speed Range is 16 to 250 ft/min
Drive:
PMDC gearmotor; Synchronous belt drive; interchangeable pulleys provide two ranges for each system, low speed and standard speed.
Controls:
Power on/off, speed adjust, lamp on/off
Interconnections:
Lamp on/off (incorporates zero-speed switch)
Exhaust Blower:
Included-internal
Fasteners:
Metric
Power:
117/230 VAC, single phase, 50/60 Hz, internally selected. IEC style power connection, with power switch.
Output @ 100% Power:
300 W/inch (120 W/cm)