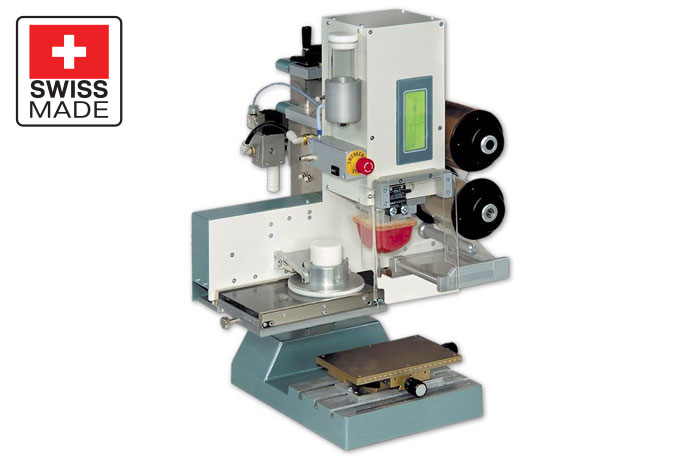 Machine Type: Pad Printing
Manufacturer: microPrint
Origin: Made in Switzerland
The LCN-151 is the "Big Brother" to the LCN-131 pad printer. These 2 machines are the same design, except this beast is "pumped-up". The LCN-151 pad transfer printer comes equipped with a large 140mm diameter (5.5") closed ink cup, with a big cliché (150 x 300mm). This 1-color pad transfer printer is designed for decorating large sized graphic images (great for pad printing on cell phone lenses). Any of our LC Series pad printers are an absolute best solution for today's injection molding facilities and/or custom decorating house as these machines address all of the traditional complaints found in the pad printing process. The LCN-151 features:
Automatic pad cleaning without production loss
Fast cliché plate changeover without any tools
Automatic ink viscosity control system
Easily integrated into any automation system
Simple to use graphical operator interface
X/Y/R cliché holder adjustment
Since 1995 microPrint of Switzerland has been successfully crafting a complete range of "intelligent pad printing machines" that will completely control the pad printing process. microPrint rewrote the book on pad-printing technology and they continually bring forth new innovations to the pad printing marketplace.

Call us now at (714) 639-DECO to find out more about microPrint's remarkable line of pad transfer printing machines, and let us prove to you that we have what it takes to keep your pad print department running smoothly.
Specifications
Technical Data
LCN-151
Printing Capacity:
up to 2,100 pph
Drive:
Pneumatic
Printing Force:
max. 1,800 daN at 6 bar
Air supply
5-6 bar (87 psi)
Air Consumption:
3 cfm @ 80psi
Control system:
PLC 24V
Power connection:
110-240V 50-60 Hz.
Control voltage:
24 VDC
Weight:
Weight with stand:
42 Kg. (93 lbs.)
62 Kg. (137 lbs.)
Plate size with ink cup:
150 x 300mm max.
Plate size with inkwell:
Special Order Only
Plate Thickness:
0.5 or 10mm
Ink cup sizes (diameter):
120mm (4.72")
140mm (5.51")
Print sizes (diameter):
110mm (4.33")
130mm (5.11")