Novum
High
Speed
Digital
Printing
Systems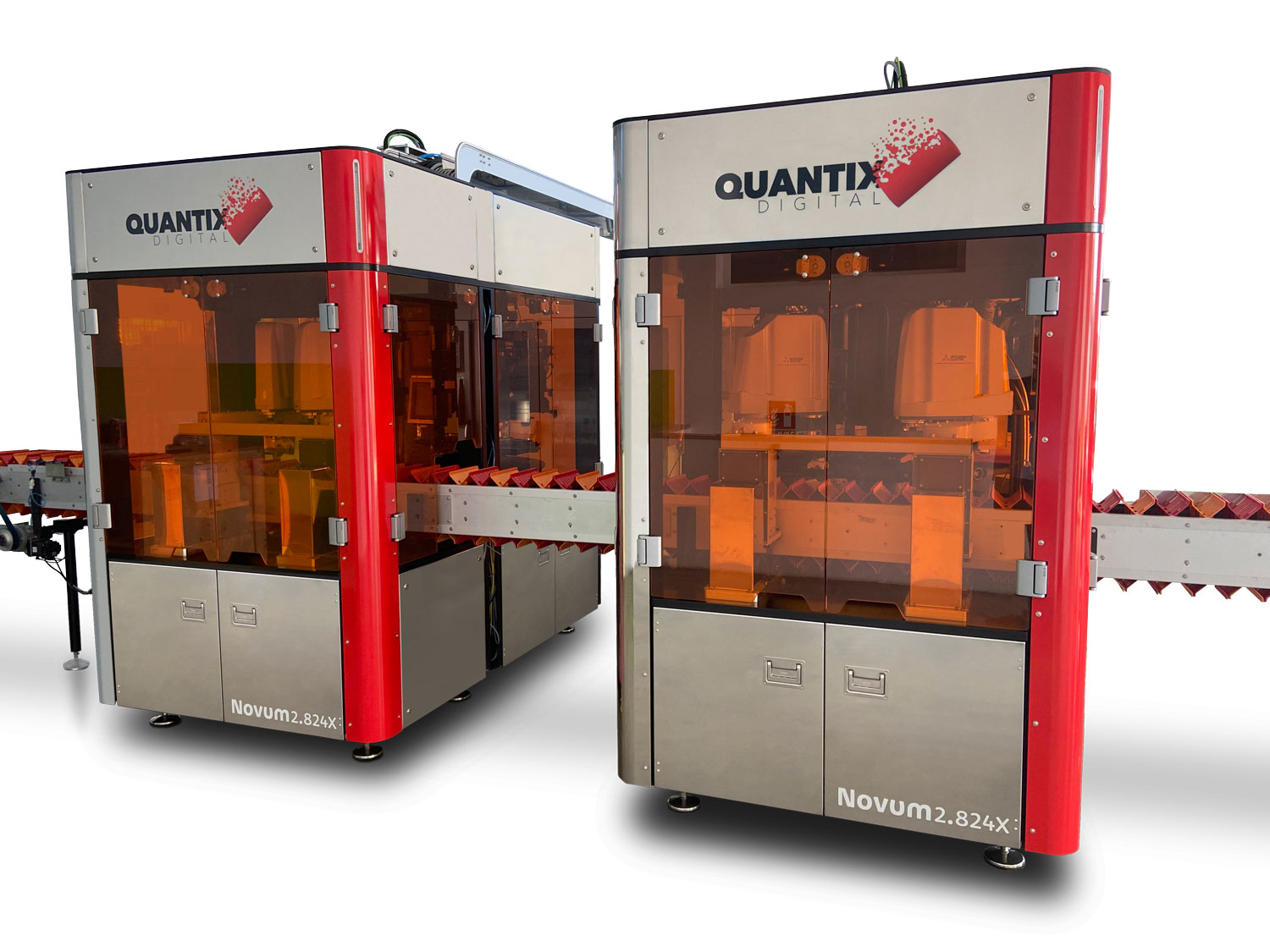 DTO digital printing machinery for decorating round products.
Machine Type: High Speed DTO Inkjet Digital Printer
Manufacturer: Quantix Digital
Origin: Precision Crafted in Italy
Quantix Digital of Italy has developed a comprehensive line of high speed DTO (Direct To Object) digital inkjet printing systems for high quality decorating of 3D round objects with photo quality graphics. The 100% servo driven Novum digital printing systems are modular & expandable systems that are suitable for digitally printing on all types of containers, including beverage cans (necked), aluminum tubes, laminated plastic tubes, rigid plastic caulk & adhesive tubes, aluminum aerosol cans (necked), plastic capsules for tablets & pills, screw top wine bottle caps/ sleeves, tapered plastic or aluminum drinkware cups, lip balm tubes, plastic shampoo bottles, and other types of round or tapered containers.
Advantages
of
digital
printing
technology
Small lot size orders are no longer cost prohibitive
Artwork changes are done on the fly with zero downtime
No films, printing plates, screens or pre-press room required
Superior Print Quality with Photo-Realistic eye-popping graphics
Multi-Drop print technology delivers 720 dpi resolution in a single pass
Environmental Impact and Waste is Minimized
High Opaque white inks are available and stable in production
Printing can be done with CMYK and GVO (Green, Violet, Orange) are available options for greater color matching spectrum of Pantone shades
Spot colors are also available for precise color matching of a logo
Create a screen-printed look or tactile printing effect with a thick ink deposit
Create metallic effects on beverage & aerosol cans using the substrate color
Competitive
Advantages
of
the
Quantix
DTO
systems
Modular System Design - link up to 3 machines with a single feeding line
Modular Design allows you to grow your business in steps
Multi-Drop/ Single Pass printing technique delivers high resolution & faster speeds
Beverage Cans can be Pasteurized (necessary for any drink containing sugar or milk)
Superior adhesion on metal cans & plastic substrates with plasma pre-treatment standard
Superior adhesion with the application of a UV cured primer for metal or plastic products
Quantix DTO systems can digitally print on necked beverage cans & aerosol cans
Visual Camera Inspection of the print is standard equipment
Visual Camera Inspection checks the containers integrity as they are fed into the system
Quantix DTO systems can digitally print on all major brands of beverage cans
Six major worldwide Patents have been applied for and are pending
LED UV systems are standard equipment
100% Servo-driven and all job parameters can be recalled from the PLC
Quick-change product sizes & mandrels with no tools required
Inks, printheads, spare parts and consumables are in stock in California for our North American customers
Faster
Printing
with
Single-pass
Multi-drop
DTO
printing
technology
The QUANTIX DIGITAL single-pass digital printing technology delivers higher productivity, and the high-quality graphics are printed in a single pass maximizing your printing speed.
The NOVUM CAN model of DTO digital printing systems are running in production decorating beverage cans at 80ppm in a single machine, and when ethernet linked with two or three NOVUM CAN units the printing speeds rise to 160ppm or 240ppm respectively. One industry standard Palletizing and Depalletizing unit can be utilized with 1, 2 or 3 NOVUM CAN machines without complications or system upgrades required. With this modular approach you can grow your digital can printing services in steps.
The NOVUM CAP model runs wine bottle screw top caps at speeds up to 240ppm (2-up production in a single unit) and the NOVUM CAP model will decorate both the cylinder as well as the top of the screw caps in a single pass. Aluminum caps are bowl-fed into the system automatically.
The Quantix Digital single pass/ multi-drop printing technology replaces the competitors multi-pass variant (which involves multiple passes around the cylinder to create a like looking graphic) and therefore our single pass/ multi-drop printing process is dramatically faster and economical. The productivity and reliability of the Novum DTO digital printing systems for decorating round products is markedly higher when compared with other digital printing systems currently on the market. Furthermore, the straight-forward approach to the systems engineering and design make these QUANTIX DIGITAL DTO digital printing systems easy to operate and maintain.
To find out more or to schedule a personal visit, please contact Mike Learmouth at (714) 639-DECO. Deco Tech is the exclusive distributor for Quantix Digital in North America.