MS-250
Pad
Printing
Machine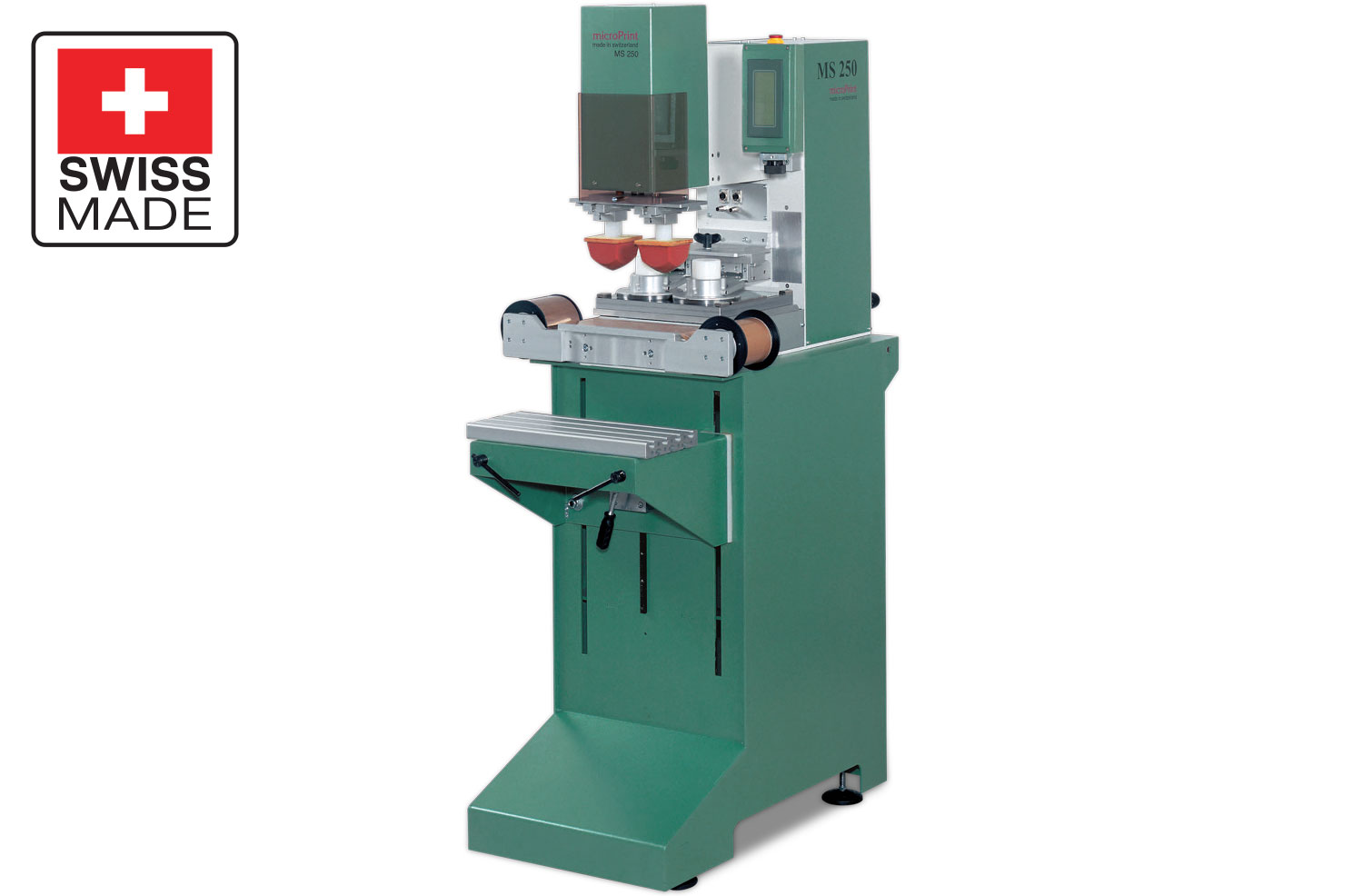 Machine Type: Multi Color Pad Printing Machine
Manufacturer: microPrint
Origin: Made in Switzerland
The MS-250 pad printing press from microPrint of Switzerland is designed to be a robust and speedy single or multi-color pad printing machine. For 2 color pad printing applications it can be set-up with either a two-position part shuttle or a 2 position pad shuttle with two 86mm closed cups or two 120mm closed ink cups.

The microPrint MS-250 pad transfer printer can also be configured with up to 4 sealed ink cups at 56 mm (2.2") diameter. The modular design allows you to use many different ink cup sizes in a number of combinations (see specs for details). With a 4 color ink cup set-up, the model MS-250 is perfectly matched with our programmable servo-driven linear indexing part shuttle, making the MS-250 a perfect solution for multi-color golf ball printing. This solid built and compact pad printer is ideal for printing many injection molded parts, such as medical devices, advertising specialty items & many other industrial goods.
Features
Automatic pad cleaning without production loss
Fast cliché plate changeover without tools
Easy integration into automated systems
Simple to use graphical operator interface
X/Y/R cliché holder adjustment
microPrint rewrote the book on pad printing technology with their many innovations, and today microPrint is a Worldwide leader in providing innovative solutions for the pad printing machine customer.
Specifications
Technical Data
MS-250
Printing Capacity:
up to 1,800 pph
Drive:
Pneumatic
Printing Force:
max. 710 N
Air supply
5-6 bar (87 psi)
Air Consumption:
2.5 cfm @ 80 psi
Control system:
PLC 24V
Power connection:
110-240V 50-60 Hz.
Control voltage:
24 VDC
Weight:
Weight with stand:
68 Kg. (150 lbs.)
158 Kg. (348 lbs.)
Plate size with ink cup:
260 x 250mm max.
Plate size with inkwell:
250 x 120mm max.
Plate Thickness:
0.5 or 10mm
Ink cup sizes (diameter):
4 x 56mm (2.20")
3 x 70mm (2.75")
2 x 86mm (3.38")
2 x 120mm (4.72")
Print sizes (diameter):
4 x 50mm (1.96")
3 x 60mm (2.36")
2 x 76mm (2.99")
2 x 110mm (4.33")