Pad
Printing
on
Soft
Touch
&
TPE
Materials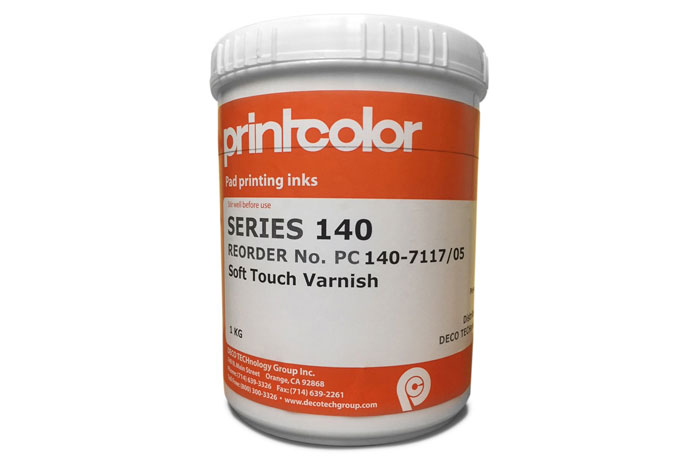 Pad Printing and Screen Printing solution for soft touch materials & TPE (Thermoplastic elastomeric materials based on olefins).
Soft
Touch
Varnish
for
Pad
Printing
-
PC140-7117/05
Printing on soft touch materials such as TPE (Thermoplastic elastomeric materials based on olefins) and TPU (Thermoplastic elastomeric materials based on urethane) has become increasingly popular throughout the years with the automotive and marketing industry. With this trend, Deco Tech has proudly added suitable inks for these materials.
Deco Tech is proud to announce our new PC140-7117/05 soft touch additive/varnish for use with our Printcolor 792 series pad printing inks. This additive allows for superior adhesion onto Soft-Touch and Thermoplastic Elastomer (TPE) materials for items such as phone & tablet cases, pens, cosmetic bottles, water bottles, and stress balls. The PC140-7117/05 varnish is extremely user friendly and provides great adhesion. Lab tests have proven superior abrasion resistance and chemical resistance.
Tips
for
printing
on
Soft
Touch
&
TPE
| Tips for printing on Soft Touch & TPE | Mixing Ratio / Percentage |
| --- | --- |
| Printcolor 792 series ink & PC140-7117/05 Varnish: | 1:1 |
| PC700-HDA hardener: | 10% by weight |
| Universal Thinner GS-017 | 10-15% by weight |
| GS-019 thinner (fast speed thinner) | Can be blended with GS-017 for a total of 10-15% |
| PC10-03432 (slow speed thinner) | Recommended when screen printing 1-5% max |
| Oven Curing Time | Recommend 15 minutes at 250 degrees F |
It is very important to remember not to use more thinner than this recommended amount. Studies and tests have shown that when too much thinner is used it erodes the soft touch coating causing the print to crack and peel. It is recommended to place the printed parts in a dryer or in front of a fan to speed up evaporation of the thinner. In most pad printing applications our GS-017 thinner is best, when using this soft touch varnish it is always best to use the fastest speed thinner possible, like our GS-019 fast speed thinner. When screen printing, using a faster speed thinner is not possible, as it will dry too quickly in the screen, causing it to clog the screen. Our slow speed thinner for screen printing is recommended (PC10-03432).
The PC140-7117/05 varnish is in stock and ready to ship! Please contact us 714-639-DECO to request more information or samples!