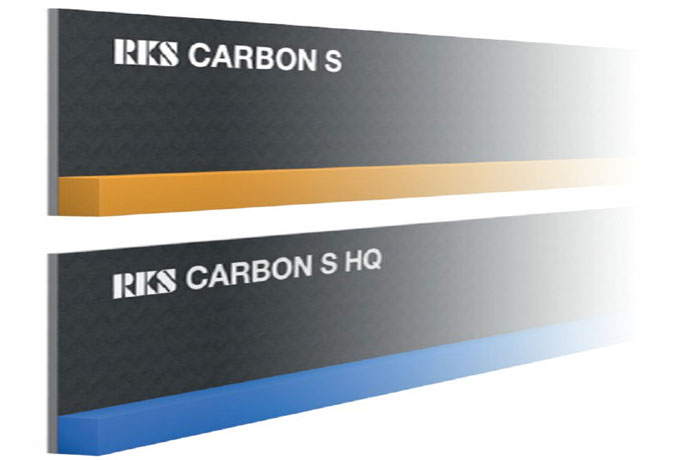 The Patented Carbon S squeegee blades are the latest development in the RKS System Squeegee lin...
Machine Type: Squeegee Blades
Manufacturer: RKS
German Machine: Made in Germany
The Patented Carbon S squeegee blades are the latest development in the RKS System Squeegee line and they are similar in use to the industry standard RKS System Squeegees but come with some excellent advantages. Characteristics differ in that the Carbon S squeegee blade can be used in production scenarios were static build-up is an issue. By utilizing carbon fiber vs. Fiberglas, the static build up is greatly reduced or eliminated completely during a production run. Another advantage of the Carbon S squeegee is that exhibits greater flexibility & elasticity making it an even more stable. By employing carbon fiber technology RKS found it is possible to produce a thinner and more flexible blade and their Carbon S squeegees are especially well-suited for flat-bed screen printing machines and for container and bottle printing presses as well. For the bottle market RKS has developed a new angled profile that is exceptional in its performance. Contact us for a free sample to try out on your cylindrical bottle press.
Introduction
video
to
RKS
high
quality
squeegees
and
machines
Blade
Height
Want to mount a Carbon S squeegee blade into a conventional squeegee holder? The 60mm (or less) tall Carbon S squeegee blade profile is the tool of choice and you can utilize the RKS spacer for easy adaptation . The 95, 105 and 115mm high squeegee blades are fixed directly into the RKS squeegee holders. The added height avoids any contamination caused by the squeegee holder.
Special
non-standard
blade
heights:
RKS can make special or non-standard blade heights upon request and the pricing is only slightly higher as the price is calculated based upon the next higher standard blade height available. For example if you wanted a profile height of 70mm, the price would be the same as the standard 95mm blade.
Blade
design:
The Carbon S squeegee blades are only available in the Type 00 which has an equal thickness throughout the entire height (non-profiled like the Type 32 and 32 HQ).
The Carbon S squeegees are available in two (2) different thickness variations:
Up to a height of 60 mm a wall thickness of approx. 1.2 mm
All other heights above this a wall thickness of ca. 1.7 mm
Available
Rubber
thickness
and
Shore
hardness:
6 mm rubber thickness 65° and 75° Shore
8 mm rubber thickness 55°, 65° and 75° Shore
Other rubber thicknesses are available upon request.
Max
Profile
Lengths:
The maximum length of the Carbon S blade is currently 2,800mm (longer lengths are under development). You can also get pre-cut lengths upon request (no discount applied). The maximum length for a Carbon S HQ squeegee blade is 2,600mm.



* Maximum production length approx 2800mm;





* Maximum production length approx 2600mm;