RPX
700.3
Motor
Driven
Flatbed
Screen
Print
Machine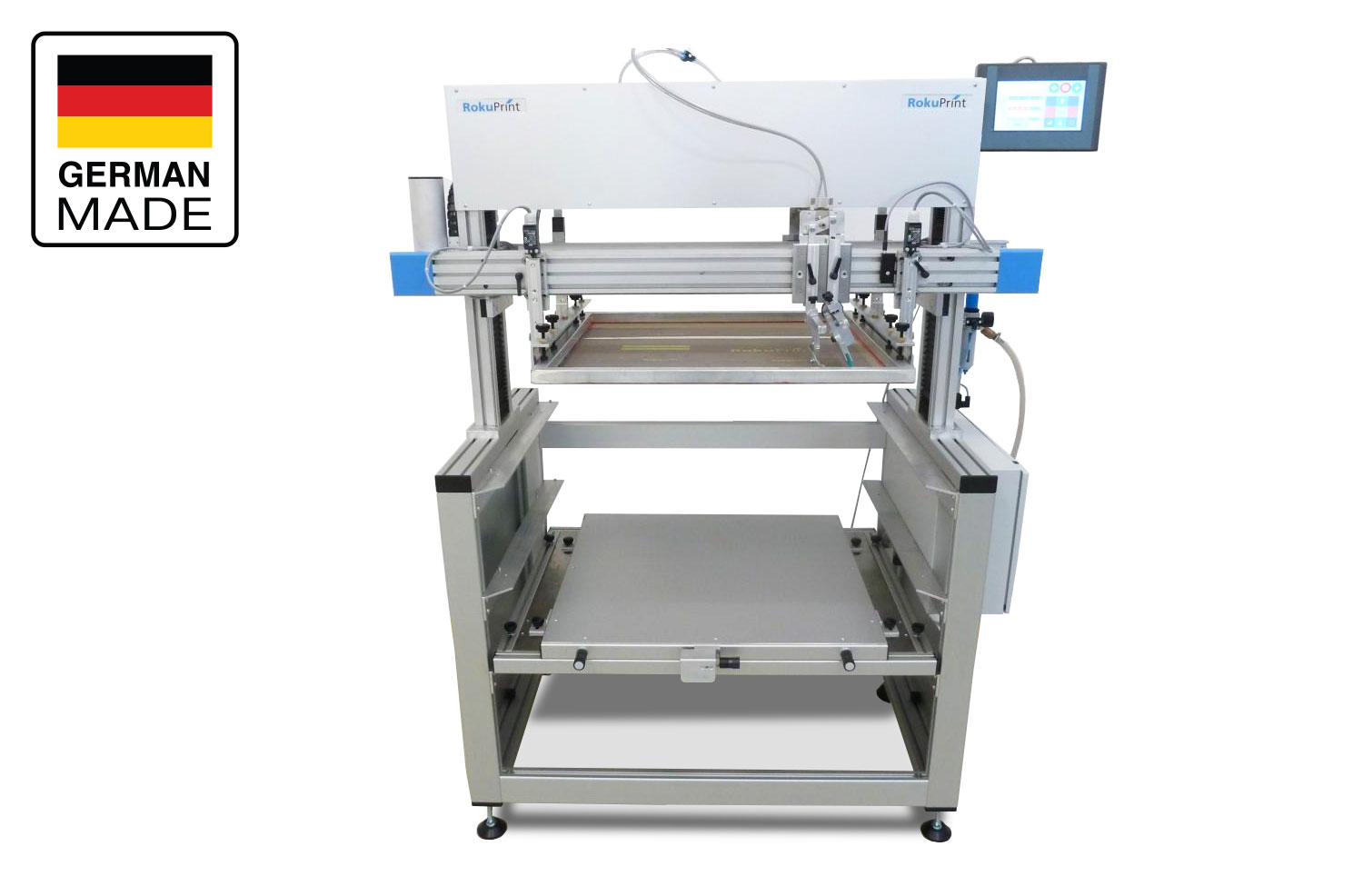 Precision German built flat-bed screen printing press for screen printing onto appliance panels and automotive exterior components up to 800 x 700mm.
Machine Type: Semi-Automatic Large Format Flatbed Screen Printing Press
Manufacturer: RokuPrint
Origin: Made in Germany
New for 2023 is the RokuPrint model RPX 700.3 (replaces the RPX 700) and the RPX 800.3 (replaces the RPX 800) which are two models of the precision German built RokuPrint flat-bed screen printing machines that are DC motor driven (dual axis X and Z) and these screen printing machines are accurate and precise, and all job data (up to 105 jobs) can be stored in the PLC for fast set ups. These XL format screen printing presses are perfectly suited for screen printing onto large appliance panels, powder coated panels, aerospace and aircraft panels, exterior automotive components, and other industrial graphics. Also, the RPX 700.3 and RPX 800.3 can be outfitted with a powerful vacuum table for screen printing onto flat plastic sheets such as non-slip floor graphics, interior and exterior signage and much more. The RokuPrint RPX 700.3 and RPX 800.3 are outfitted with vertical screen lift that keeps the ink always in the print zone for trouble-free production and minimal downtime. The vertical lift also provides ease of loading and unloading of large panels and a better view of the print for visual inspection. As an option, these industrial strength screen printing machines can also be outfitted with a slide table to make loading of heavy steel panels even easier. Also, the worktable is adjustable to three different heights (see photos) and you can screen print onto tall panels/ boxes as well. The squeegee and flood bar are both quick change and require no tools and they can be remounted in the same precise location with a positive stop mechanism included. To find out more, call the experts at (714) 639-DECO.
Advantages
Latest technology for optimal printing results and consistent quality
Universally useable for flat or rotary printing (depending on configuration)
Print and flood speed can be adjusted separately
Precise and low maintenance by using proprietary guide elements
Easy operation and quick set-up of new programs by teach-in-mode or direct entry
Short set-up time due to memory function (105 individual programs)
Adjustment of screen off-contact distance in semi-automatic operation
Quick and easy cleaning
High printing performance and speed
Space-saving and portable due to compact design
New
Functions
Position display of X- and Z-axis
Visualization of all program parameters
Expanded memory (105 individual programs)
Quick position correction (direct value entry)
Password protected screen lock
Many other special functions
Specifications
| Technical Data | RPX 700.3 | RPX 800.3 |
| --- | --- | --- |
| Drive System: | Controlled DC Motors | Controlled DC Motors |
| Control System: | Display controller 7" LED | Display controller 7" LED |
| Display & Color Resolution: | 18 Bit (3 x 6 RGB) 800 x 480 (WGVA) | 18 Bit (3 x 6 RGB) 800 x 480 (WGVA) |
| Print Speed: | up to 900 pph | up to 900 pph |
| Print Head: | Pneumatic | Pneumatic |
| Printing size flat (L x W): | 700 x 700mm (27.5" x 27.5") | 800 x 700mm (31.5" x 27.5") |
| Screen frame: | profile 30 x 30mm (1" sq.) | profile 30 x 30mm (1" sq.) |
| Max. screen size (L x W): | TBD | TBD |
| Voltage: | 100-240V 50/60Hz. | 100-240V 50/60Hz. |
| Weight: | 120 Kg. (264 lbs.) | 130 Kg. (286 lbs.) |
| Dimensions (L x W x H): | 1,250 x 720 x 800mm (49.21" x 28.34" x 31.49") | 1,350 x 720 x 800mm (53.1" x 28.34" x 31.49") |
RokuPrint printing applications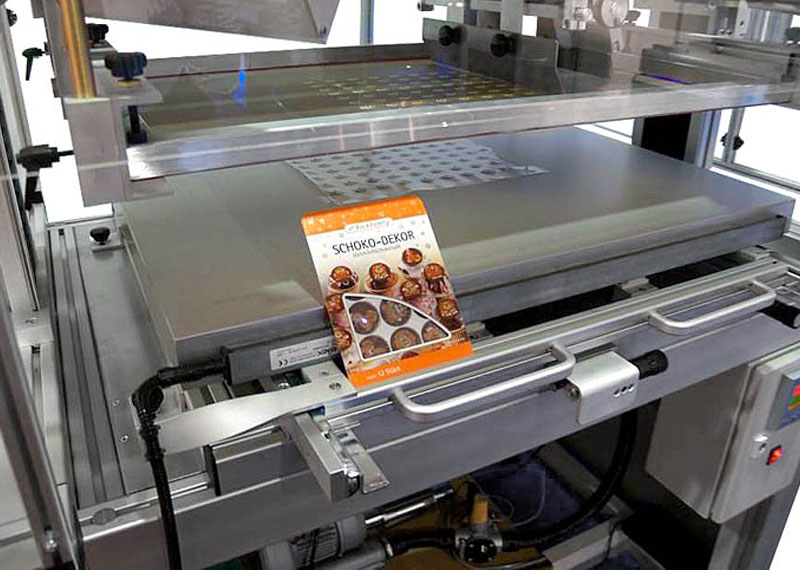 Chocolate
Transfers
The RPX-700 is well suited for printing transfers to decorate chocolates and other confectionary items. The vacuum table is utilized to hold down the plastic sheets and there is a heating system (not shown) above the screen which keeps the cocoa butter flowing through the screen.