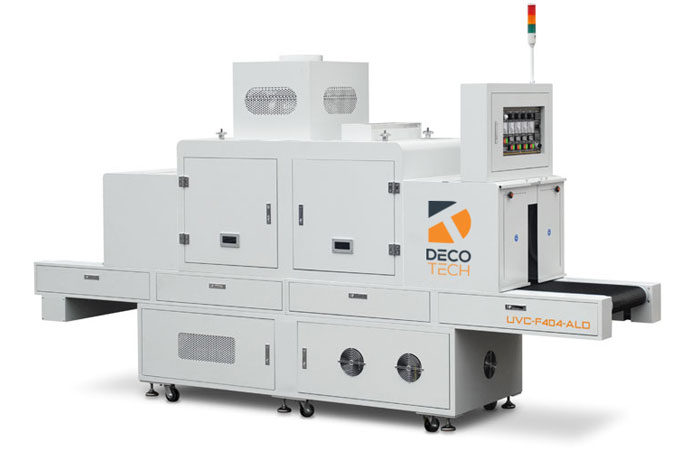 A four lamp UV curing conveyor system for round containers up to 1 gallon size.
Machine Type: UV curing conveyor system with 4 UV lamps
Manufacturer: Deco Tech brand
Origin: South Korea
The Deco Tech UVC-F404-ALD UV curing conveyor system has been specially designed by Deco Tech for the UV curing of screen printed inks onto plastic and glass bottles & jars. These well-crafted ultraviolet drying units are precision crafted to our precise specifications in South Korea and are CE approved. This unit is equipped with four UV lamps so that as the containers move through the tunnel, the parts can be curing 360 degrees around the entire surface of the cylinders. The infeed side of the conveyor has adjustable doors to reduce the chance of light leaking into the working environment. This large and robust UV dyer can handle bottles up to 1 gallon jugs. Larger units are also available for bigger containers.
The four UV lamps are fully adjustable up, down and angled (on the left and right side). On the inside of the doors and tunnel there are highly polished mirrored reflectors to help better cure any 3-D products. Call the experts at (714) 639-DECO to request a quote on any of our UV or IR drying systems.
Specifications
| General: | |
| --- | --- |
| System Dimensions (L, W, H): | 3,680 x 790 x 1,935mm (144.88" x 31.10" x 76.18") |
| Conveyor Speed: | Variable 0 ~ 6 meters per minute |
| Speed Control: | Inverter Type, Motor Speed Control |
| Belt Type: | Teflon coated mesh (available with support pins for small bottles 200mm center line distance) |
| Belt Width: | 540 mm (21.25") |
| Exhaust Fan: | Exhaust Air: 134M/ min (blower type) |
| Cooling Fan: | 20W (transformer) |
| Power Supply: | |
| Input Voltage: | 220V, 3Phase, 50/60 Hz |
| Transformer Capacity: | 7 KVA x 4 each |
| Input Current: | 100 Amp circuit breaker |
| UV Lamps: | |
| Type: | Metal Halide UV Lamps x 4 |
| Overall Length: | 4 x 520mm (20.47") |
| Arc Length: | 4 x 400mm (15.75") |
| Rated Voltage Capacity: | 500V (± 30V) |
| Wattage/ Cm2: | 100W/ Cm |
| Wavelength: | 250 ~ 420nm |
| Ignition Time: | 5 Minutes |
| Reflector Module: | |
| Reflector Type: | Elliptical Focus Type |
| Material: | Polished Aluminum |
| Curing Length (Bottle Height max): | 300mm (11.81") |
| Other Features: | |
| Main Switch (NFB): | Main Power On/Off Switch |
| Lamp Ampere Meter: | Displays Lamp Current |
| Lamp Time Check Meter: | Displays number of Lamp Hours |
| Emergency Stop: | 2 locations both ends of conveyor belt |
| Temperature Indicator: | Displays Internal Temperature of Oven |
| Lamp Height Control: | Mechanical adjustment for distance & angle |
| Fan Switch: | Manual On/Off control of fan |
| Warning Lamp: | Indicates a low current status |
| Color: | RAL 7035 light grey |