ecoCLEANER
740
NTD
Ink
Cup
Cleaning
System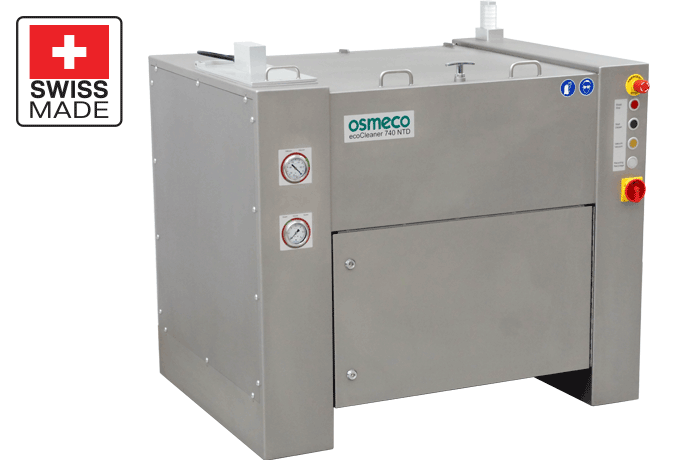 Machine Type: Eco-Friendly Ink Cup & Cliché Cleaning System
Manufacturer: Osmeco
Origin: Made in Switzerland
Features
No hazardous chemicals
Water-based cleaning agent
No harmful vapors
No unpleasant odors
Cleaning agent is recycled & reused
Not harmful or corrosive to ink cups & steel clichés
All stainless steel construction
PLC controlled with variable cycle times
Swiss built with world class components
Overview
The OSMECO Swiss precision built ecoCLEANER MODEL 740 NTD is an earth friendly water based parts washing system for cleaning-up pad printing ink cups, clichés and accessories. With an ecoCLEANER in your plant you can say good-bye to the labor intensive, expensive and unenjoyable task of cleaning your ink cups by hand. Cleaning up ink cups is a job that nobody wants to do and most times they are cleaned poorly. With the ecoCLEANER you just load the dirty ink cups & clichés into the stainless steel basket, close the lid and press the start button and walk away… The ecoCLEANER does the rest with three high pressure spray nozzles (from the top, bottom and side). The ecoCLEANER breaks down and continually filters out the pad printing inks with our innovative & safe water based Cleanax 200.1 cleaning agent, which is continually being filtered/ recycled via the Sorbex 100.1 all natural filter medium, which comes poly bagged in a dust-free formulation and the waste ink particulates are separated and the rejuvenated (filtered) cleaning agent is used over and over again. Best of all, this waste ink material can be safely disposed of in a landfill as non-hazardous waste.*
*Note: This statement of claim is made with the supposition that you as the user are utilizing commercially approved and safe pad printing inks that are manufactured within the safety standards and regulations for North American consumption/ usage. Please consult with your local environmental expert/ consultant and/or appropriate regulatory agencies to be certain of your compliance with all local, state and federal laws before disposing of your broken down ink particles into a landfill.
Cleaning
Operation
The Cleanax 200.1 cleaning agent (aka "ink remover agent") has been formulated using non-hazardous and non-flammable ingredients; yet it still safely performs the tough job of cleaning up solvent-based pad printing inks with ease! The innovative ecoCLEANER can quickly clean up all of your pad printing accessories such as ink cups, clichés, cliché holders, doctor blade assemblies, etc. We even custom build special ink cup holding systems for lightweight plastic bodied ink cups (as are found on some brand machines). The ecoCLEANER pad print cleaning system work great with both 1 or 2 component ink systems that are solvent based (or UV/ solvent based) and the ecoCLEANER can even remove completely hardened 2-component epoxy inks from your ink cups with multiple washing cycles. So now those expensive "ruined ink cups" can be put back into production and you can recoup your lost investment.

The ecoCLEANER series of pad printing cleaning systems utilize a state-of-the-art natural filtration system to separate out the pad print inks components (i.e.: their pigments, binders, resins, solvents, etc.) and it uses the science of surface tension to fully clean all of the residual inks and solvents from the ink cup and cliché surfaces. The Cleanax 200.1 is continually pumped and sprayed directly onto the machine parts using 3 powerful jets and the basket automatically rotates during the cleaning cycle to spray off the ink residue from virtually anywhere on the machine parts. We also have the ability to add special spraying heads and nozzles for difficult to clean ink cups (see photos below of custom solutions).
Recycling
Operation
/
Filtering
Operation
During the cleaning cycle the ecoCLEANER is continually cycling dirty Cleanax 200.1 through the filtration process where it separates the broken down ink components from the newly rejuvenated Cleanax 200.1 ink remover agent. From the control panel you can program the cleaning/ recycle time in the following values: 10, 20 or 30 minute cycles (20 minute cycle is typically for most operations). The beauty of this recycling/ filtering process with Sorbex 100.1 is that the Cleanax 200.1 is fully rejuvenated, and the ink remover agent can be used on a continual basis with little to no replacement… thus consuming much less cleaning agent than any traditional solvent based cleaning system.
To find out more about this innovative ecoCLEANER pad printing parts cleaning system just give the experts a call at (714) 639-DECO.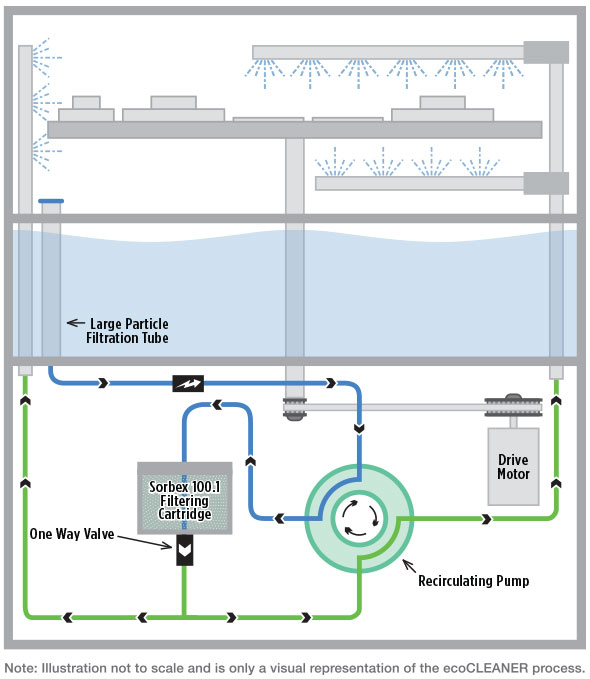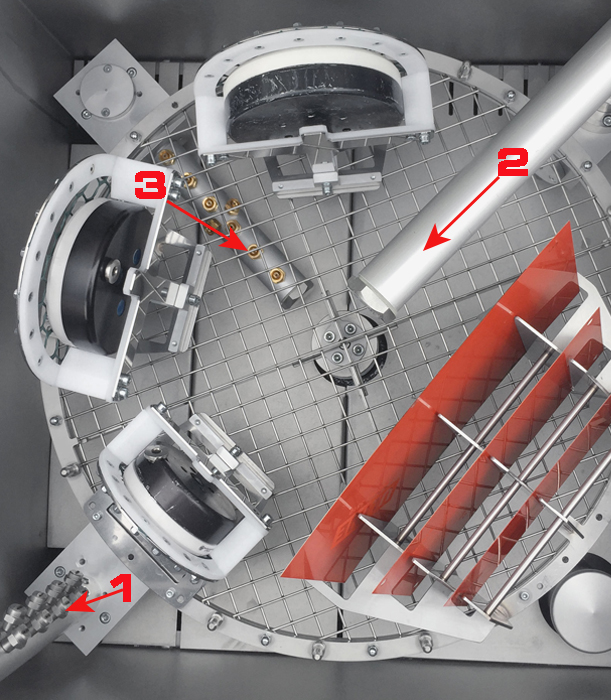 Three spray wands and a rotating basket ensure that parts are properly cleaned.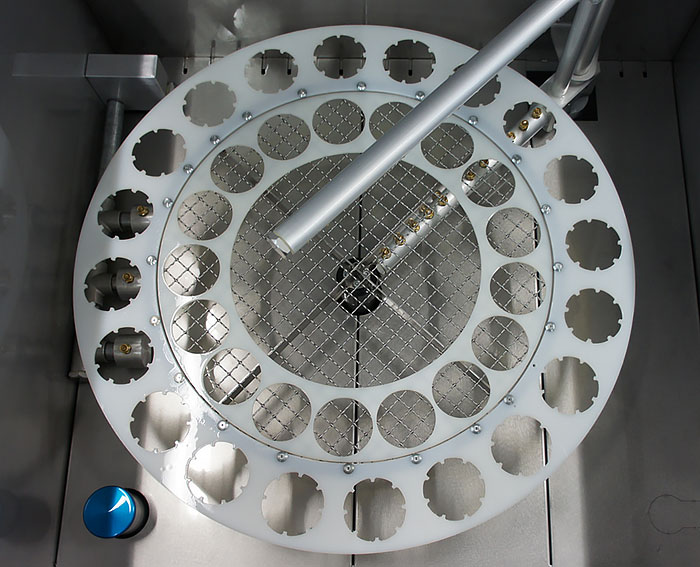 Optional ink cup holders are available in many configurations.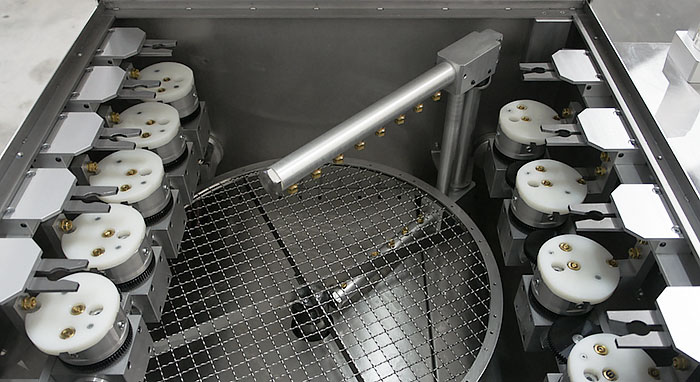 Shown with special nozzles for Tampoprint™ ink cups.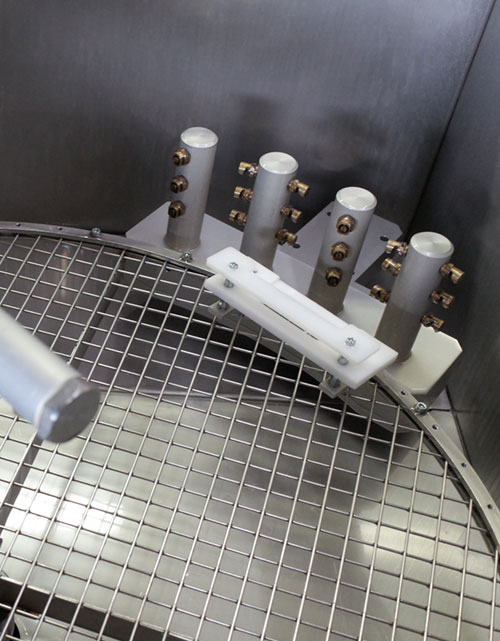 Optional side spray nozzles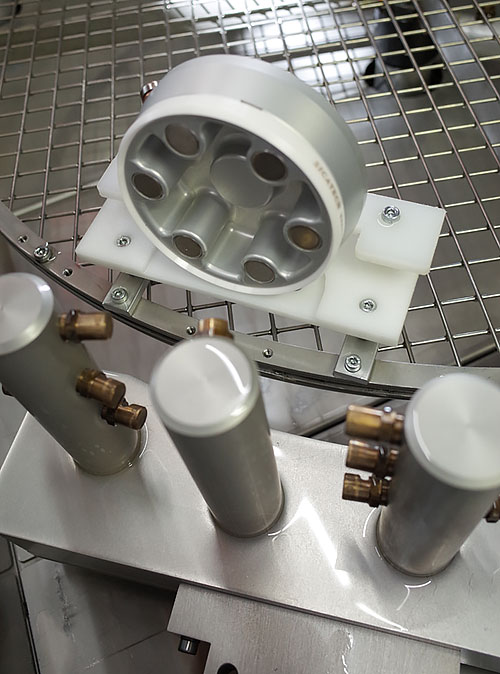 Custom cup holders are available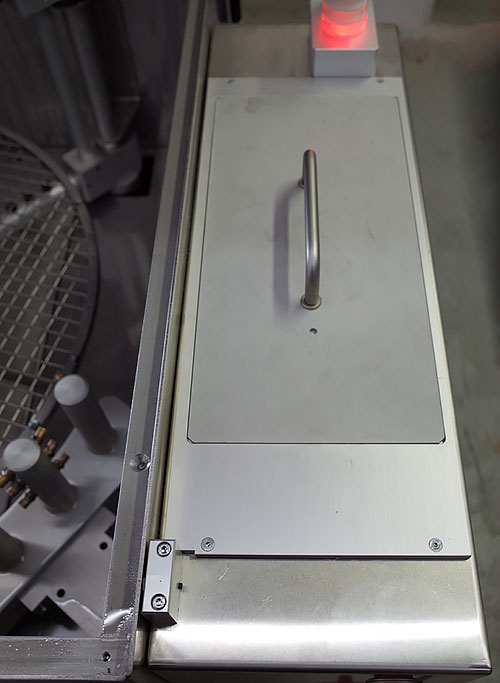 Top loading adsorber cartridge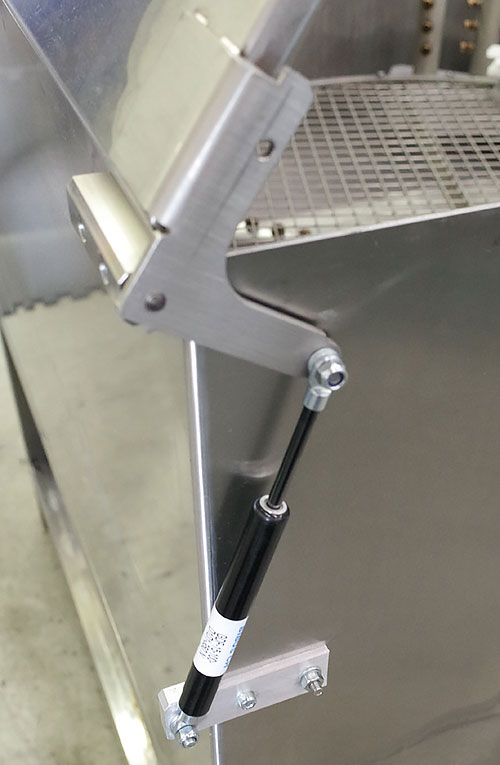 Heavy duty hinges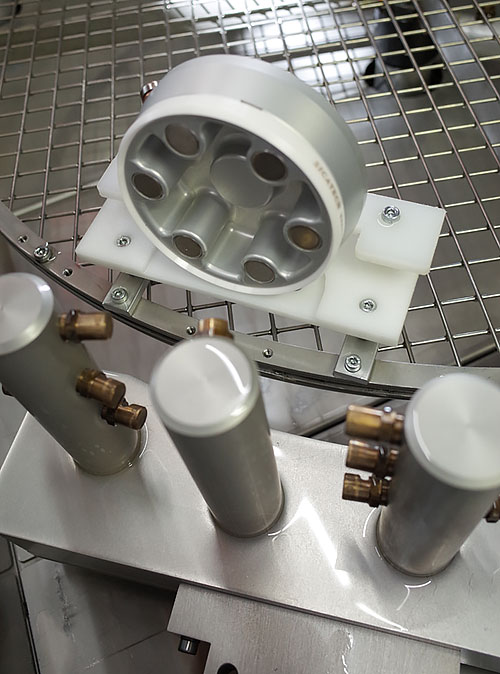 Custom cup holders are available
| Technical Data | ecoCLEANER 740 NTD |
| --- | --- |
| Dimension basket (Diameter): | 770mm |
| Dimension basket (Height): | 200mm |
| Filling ink removing agent: | 70 Liters |
| Electrical connection: | 230V / 50Hz (L+N_PE) |
| Power: | 1.2 kW |
| Air connection: | 5 bar |
| Cleaning time: | 5 - 15 minutes |
| Weight (without removing agent) | 527 lbs (239 kg) |
| Machine Dimensions (LxWxH) | 908 x 1,164 x 1,097mm ( 35.75" x 45.8" x 43.18") |