MS-500S
Cup
Slide
Pad
Printing
Machine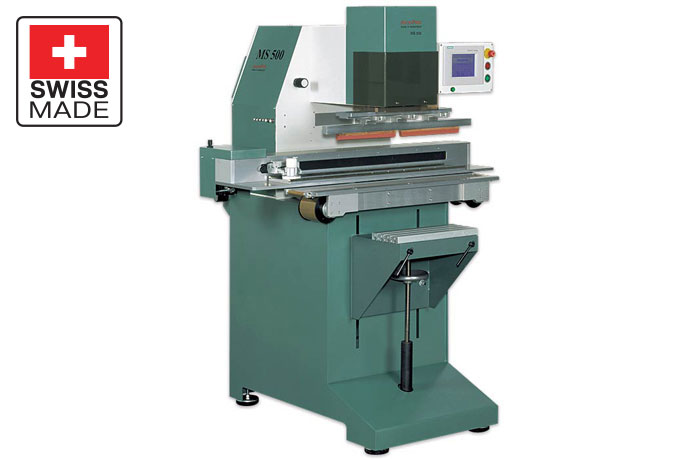 Machine Type: 1 Color Cup Slide Pad Printing Machine
Manufacturer: microPrint
Origin: Made in Switzerland
The microPrint MS-500S is a closed-cup pad printing machine that features a servo-driven horizontal linear cup slide attachment, which is perfect for pad printing onto catheters. This servo motor drives the closed ink cup back and forth (left to right) to keep the pad printing ink wet and ready to print.

This unique pad printing machine is particularly suited for pad printing on medical devices such as long tubing for catheters, guide wires and more. This catheter tubing pad printing machine is Swiss designedand manufactured with precision to pad print accurate "depth marks" onto catheters of varying diameters and lengths. The MS-500S is engineered to meet and exceed the needs of the Medical Device Manufacturing industry.
Features
Print lengths up to 600mm (23.62" or longer)
Pneumatic cup pressure for leak free cup cycling
Ceramic or Steel rings on closed ink cup
Uses either thin steel or polymer printing plates
Touch Screen control with graphical icons
Job data program storage
Programmable Tape Pad Cleaning device
The MS-500S sliding cup pad printer can be tooled-up to pad print 180° around the circumference or tooled-up to print a full 360° band around with our automatic part rotating device (done in two prints). For more information give us a call at (714) 639-DECO.
Specifications
Technical Data
MS-500S
Printing Capacity:
up to 500 pph
Drive:
Pneumatic & Stepper
Printing Force:
2,200 N Max
Air supply
5-6 bar (87 psi)
Air Consumption:
4 l/cycle
Control system:
PLC 24V
Power connection:
110-240V 50-60 Hz.
Control voltage:
24 VDC
Weight with stand:
Weight with stand & accessories:
290 Kg. (638 lbs.)
450 Kg. (990 lbs.)
Plate size with ink cup:
120 x 800mm max.
Plate size with inkwell:
N/A
Plate Thickness:
0.5 or 10mm
Ink cup sizes (diameter):
1 x 56mm (2.20")
1 x 70mm (2.75")
1 x 86mm (3.38")