Modul
170
Pad
Printing
Machine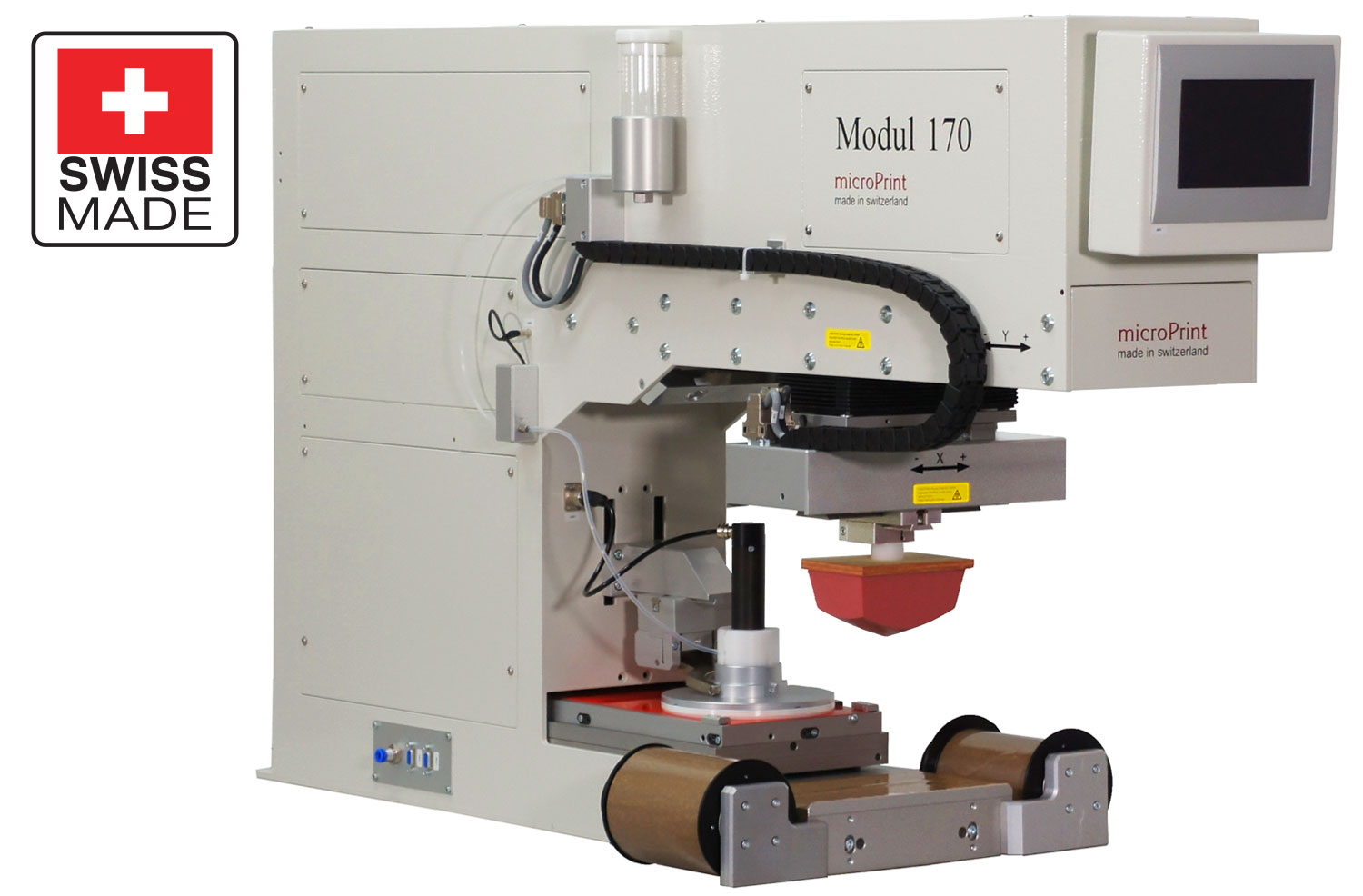 Machine Type: Linear Motor Driven Pad Printing Module
Manufacturer: microPrint
Origin: Made in Switzerland
The microPrint MODUL 170 can be ordered as standalone print head(s) and are easily integrated into an automated pad printing system. One or multiple MODUL Series pad printing machines can be combined into one centralized automated system which can be operated over a single touch screen display and the multiple heads (machines) data is saved in one central Beckhoff PLC. Furthermore, settings that are saved from the first MODUL in line can be easily copied to another MODUL in the chain.

Each MODUL 170 pad printing head can be outfitted with either 140 or 160mm diameter (5.5" or 6.29") magnetic ink cups that are outfitted with an adjustable pneumatic cup pressure device and like the other MODUL machines in the line-up, the MODUL 170 is completely programmable from the touch screen, and you can program the pad printing modules to pick up various artworks on the cliché at different locations on the cliché. The MODUL Series of pad transfer machines are designed to be labor saving systems without having to handle and print parts multiple times. The MODUL Series of pad printing machines are fast (featuring linear motor controls), flexible, one-color pad printing units. The pad and cliché positions (X/Y/Z) can be easily programmed via the user-friendly touchscreen and the print sequence can be freely defined with simple-to-learn graphic icons. Furthermore, you can pick up the ink from the cliché multiple times to allow for more opaque prints in each cycle – this is commonly used when printing large white background images on dark substrates.

All MODUL Series pad printers are equipped with an Ethernet interface. The machine parameters can be saved with PC software or automatically over an internal SPS control onto your local server. Remote access allows a microPrint technician to rectify any problems directly and software updates can be loaded remotely as required. As an optional add-on, the MODUL Series of pad printing modules can be accessed with real-time Ethernet (EtherCAT) which gives your plant more control to select machines/ job programs and transfer them to various production cells in your plant. With this option you have additional control signals and operating parameters that can be accessed from management's desktop computer or laptop. As a further option, all MODUL Series units can be upgraded with a barcode scanner with which the appropriate printing job sequence can be selected without human error. This reduces setup times and simplifies the work/ set-up steps.

All standalone MODUL Series machines are equipped with two interface ports for adding automation accessories. This makes it much easier for the customer or automation house to mount their own automation components. Several options are available such as: sensors to recognize that the part is present, vacuum units with monitoring system for lightweight parts, pneumatic clamping/ part retainers or pneumatic part shuttle devices and part rotating units.
FEATURES
Fast Job changeovers with all parameters stored in the PLC
Lightning-fast production speeds with linear and servo motor controls
Crafted with precision and care in Switzerland, ensuring the highest quality of workmanship
Automatic Pad Cleaning & Ink Viscosity controls for easy maintenance and improved performance
Intuitive touchscreen interface for easy navigation and control
Laser cut & welded construction for superior strength and durability
Interfaced into an automated system quickly with built in RS-232 port
World class components to ensure maximum reliability and performance
Specifications
| Technical Data | MODUL-170 |
| --- | --- |
| Printing Capacity: | up to 1,650/hr |
| Drive: | Pneumatic & linear motor |
| Printing Force: | 1,750 N Max |
| Air supply: | 5-6 bar (87 psi) |
| Air Consumption: | 167 l/min |
| Control System: | PLC Panasonic or Beckhoff |
| Main Voltage: | 110 - 240 V 50-60Hz |
| Control Voltage: | 24 VDC |
| Weight: | 140 kg (309 lbs) |
| Plate Thickness: | 0.5mm or 10mm |
| Max Plate Size: | 170 x 350mm |
| Max Ink Cup Diameter: | 160mm (6.29") |
| Dimensions: | Request drawing |