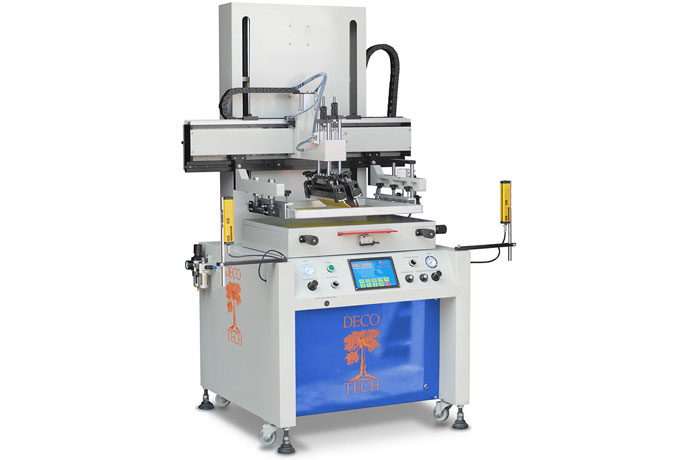 Our DT-3050-F & DT-3050-V screen printing press.
Machine Type: Flatbed Screen Printing Machine
Our DT-3050-F & DT-3050-V screen printing press feature a dual axis (vertical & horizontal strokes) DC motor driven system that lifts the screen frame straight-up vertically keeping the ink in the "print zone" and retaining the ink in the print zone was always a problem with clam-shell style screen printing machines. Furthermore our flat screen lifting method allows the operator to easily load and unload graphic sheets or industrial parts during production runs and also provides the added advantage of being able to easily view and inspect the printed sheet. Our DT-3050 machines are available with or without a vacuum table (-F = Flat & -V = Vacuum). The DT-3050 Series are well suited for screen printing small to mid-sized graphic panels, signage, membrane switches and overlays. It is also good for printing on industrial flat goods. We also have larger sizes available in the DT-4060, DT-5070 and DT-6090 models.
Dual Axis DC Motor driven
Mitsubishi PLC controlled with touchscreen (new update for 2022)
Integrated safety bar with stroke interruption
Motor driven vertical & horizontal strokes (set mechanically)
X/Y/R positioning table with or without vacuum table
Linear ball bearings on hardened shafts
Squeegee angle and calibrated height adjustment
300 x 500mm (11.81" x 19.69") print area
Regulated squeegee pressure with pressure gauge
Floor levelers & casters
Foot switch controlled
Specifications
Technical Data
DT-3050-F/V
Printing Capacity:
Up to 1,500 cycles/hr
Drive:
DC motor driven
Maximum Print Area (L x W):
300 x 500mm (11.81" x 19.69")
Max. screen frame size (L x W):
500 x 830mm (19.69" x 32.68")
Work table size (L x W):
400 x 600mm (15.75" x 23.62")
Vacuum table size (L x W):
300 x 500mm (11.81" x 19.69")
Screen Frame Thickness:
50.8mm (2")
Screen Adjustment:
X,Y ± 10mm / θ 1.8°
Print stroke (Left & Right):
500mm (19.69")
Screen Lift Stroke (Up & Down):
160mm (6.30")
Squeegee Pressure:
2-4 Bar
Air Pressure Input:
4-6 Bar
Voltage:
110V 50/60Hz 1 Phase
Weight:
187 kg (412 lbs)
Dimensions:
870 x 850 x 1,550mm
(34.25" x 33.46" x 61.02")