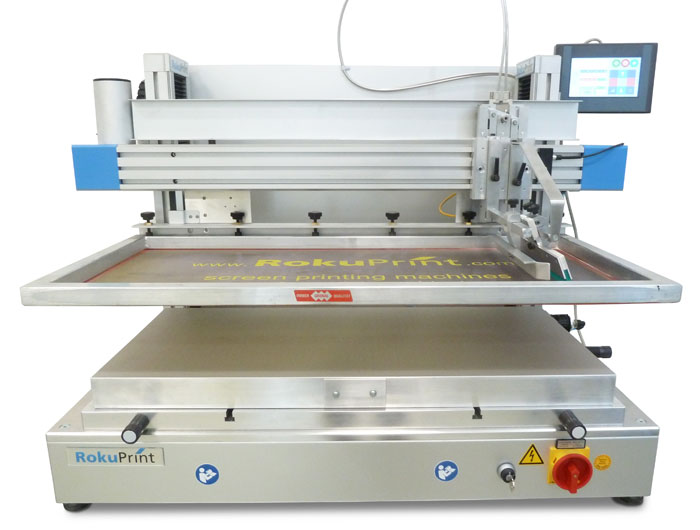 The RokuPrint RP 3.0 is a precision German built universal screen printing machine for both flat and round objects.
Machine Type: Universal Semi-Automatic Screen Printing Press
Manufacturer: RokuPrint
Origin: Made in Germany
New for 2023 is the RokuPrint model RP 3.0 (replaces the RP 2.2) which is a precision German built two-post universal screen printing machine that is DC motor driven and the RP 3.0 screen printer provides extremely accurate and precise printing results. This medium format screen print press is perfectly suited for screen printing onto both flat and round industrial products. The RP 3.0 can be outfitted with a powerful vacuum table for screen printing onto flat plastic or paper sheets or it can be outfitted with a rotary device to print on round objects such as stainless steel coffee mugs, aluminum water bottles, wine bottles, beer growlers, oil filters, fuel filters and more. The RokuPrint RP 3.0 screen printing machine is outfitted with vertical screen lift that keeps the ink always in the print zone for trouble-free production and minimal downtime. The squeegee and flood bar are both quick change and require no tools and they can be remounted in the same precise location with a positive stop mechanism included. To find out more, call the experts at (714) 639-DECO.
Advantages
Latest technology for optimal printing results and consistent quality
Universally useable for flat or rotary printing (depending on configuration)
Print and flood speed can be adjusted separately
Precise and low maintenance by using proprietary guide elements
Easy operation and quick set-up of new programs by teach-in-mode or direct entry
Short set-up time due to memory function (105 individual programs)
Adjustment of screen off-contact distance in semi-automatic operation
Quick and easy cleaning
High printing performance and speed
Space-saving and portable due to compact design
New
Functions
Position display of X- and Z-axis
Visualization of all program parameters
Expanded memory (105 individual programs)
Quick position correction (direct value entry)
Password protected screen lock
Many other special functions
Specifications
| Technical Data | RP 3.0 |
| --- | --- |
| Drive System: | Controlled DC Motors |
| Control System: | Display controller 7" LED |
| Display & Color Resolution: | 18 Bit (3 x 6 RGB) 800 x 480 (WGVA) |
| Print Speed: | up to 1,800 pph |
| Print Head: | Pneumatic |
| Printing size flat (L x W): | 700 x 320mm (27.55" x 12.59") Can be expanded with special order. |
| Printing size round (D x H): | 300 x 320mm (11.8" x 12.59") Max diam of part for 360° print is approx. 100mm (3.93") |
| Screen frame: | Aluminum frames recommended, profile 30 x 30mm (1" sq.) |
| Max. screen size (L x W): | 1,000 x 500mm (39" x 19") |
| Voltage: | 100-240V 50/60Hz. |
| Weight: | 120 Kg. (264 lbs.) |
| Dimensions: | 1,250 x 720 x 800mm (49.21" x 28.34" x 31.49") |
RokuPrint printing applications