MSS-350
Multi
Color
Swivel
Pad
Printing
Machine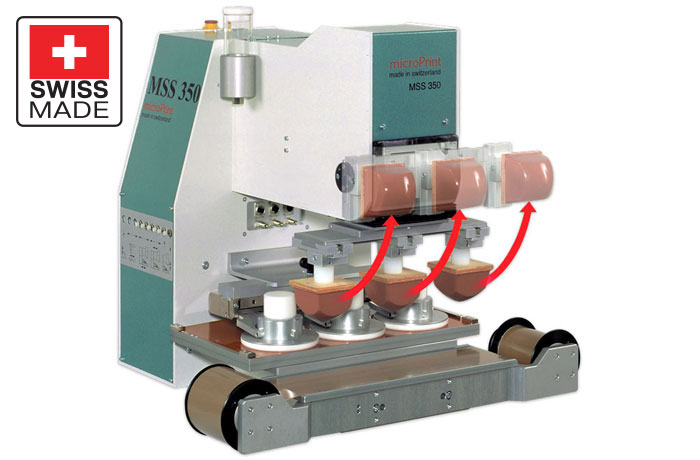 Machine Type: Multi-color 90 degree Pivoting Pad Printing Machine
Manufacturer: microPrint
Origin: Made in Switzerland
microPrint's MSS-350 is an innovative pad transfer printer that can swivel (rotate) 90° for printing graphics on a horizontal plane. This multi-color MSS-350 pad printing machine is perfectly suited for mounting into an automated pad printing production cell. The MSS-350 can be outfitted with up to 6 colors (see specs below for number of colors and ink cup sizes).

The MSS-350 can be set up with the operator interface panel mounted on the front or on the backside of this machine, making access to the machines controls simple if used in an automation or as a stand-alone printer. The MSS-350 is also equipped with an automatic pad cleaning device that uses deionized shipping tape to clean the silicone pads. You can program the machine to clean the pads every cycle or every few cycles (programmable from 1 to 99). You can also add the VISCOMATIC™, which is our optional ink viscosity control system that continually monitors and adjusts the inks viscosity range.

Every microPrint pad printer is precision built in Switzerland and they are compact, fast and precisely built. In addition to using world-class components the microPrint machine frames are precision laser cut to ensure that we provide you with the most precise and accurate machines available. This MSS-350 pad printing machine is ideally suited for medical device applications, automotive components, cosmetic packaging and a whole host of other plastic, glass or metal printing applications.
Features
Programmable automatic pad cleaning device (optional but recommended)
Extremely fast cliché changeover without any tools
Wide open operator loading area for small or large part printing
Intelligent touch screen controls with easy to use graphic icons
X/Y/R cliché holder and X/Y/R pad adjustment
Automation interface with RS-232 port
microPrint rewrote the book on pad printing technology with their many innovations, and today microPrint is the world leader in providing innovative solutions for the discerning pad printing customer.
Call the experts at (714) 639-DECO to learn more.
Specifications
Technical Data
MSS-350
Printing Capacity:
up to 1,800 pph
Drive:
Pneumatic
Printing Force:
1,100 N Max
Air supply
5-6 bar (87 psi)
Air Consumption:
5 cfm @ 80 psi
Control system:
micro-processor
Power connection:
110-240V 50-60 Hz.
Control voltage:
24 VDC
Weight:
Weight with stand:
60 Kg. (132 lbs.)
100 Kg. (220 lbs.)
Plate size with ink cup:
250 x 400mm max.
Plate size with inkwell:
120 x 400mm max.
Plate Thickness:
0.5 or 10mm
Ink cup sizes (diameter):
6 x 56mm (2.20")
5 x 70mm (2.75")
4 x 86mm (3.38")
3 x 120mm (4.72")
Print sizes (diameter):
6 x 50mm (1.96")
5 x 60mm (2.36")
4 x 76mm (2.99")
3 x 110mm (4.33")