MS-150
Pad
Printing
Machine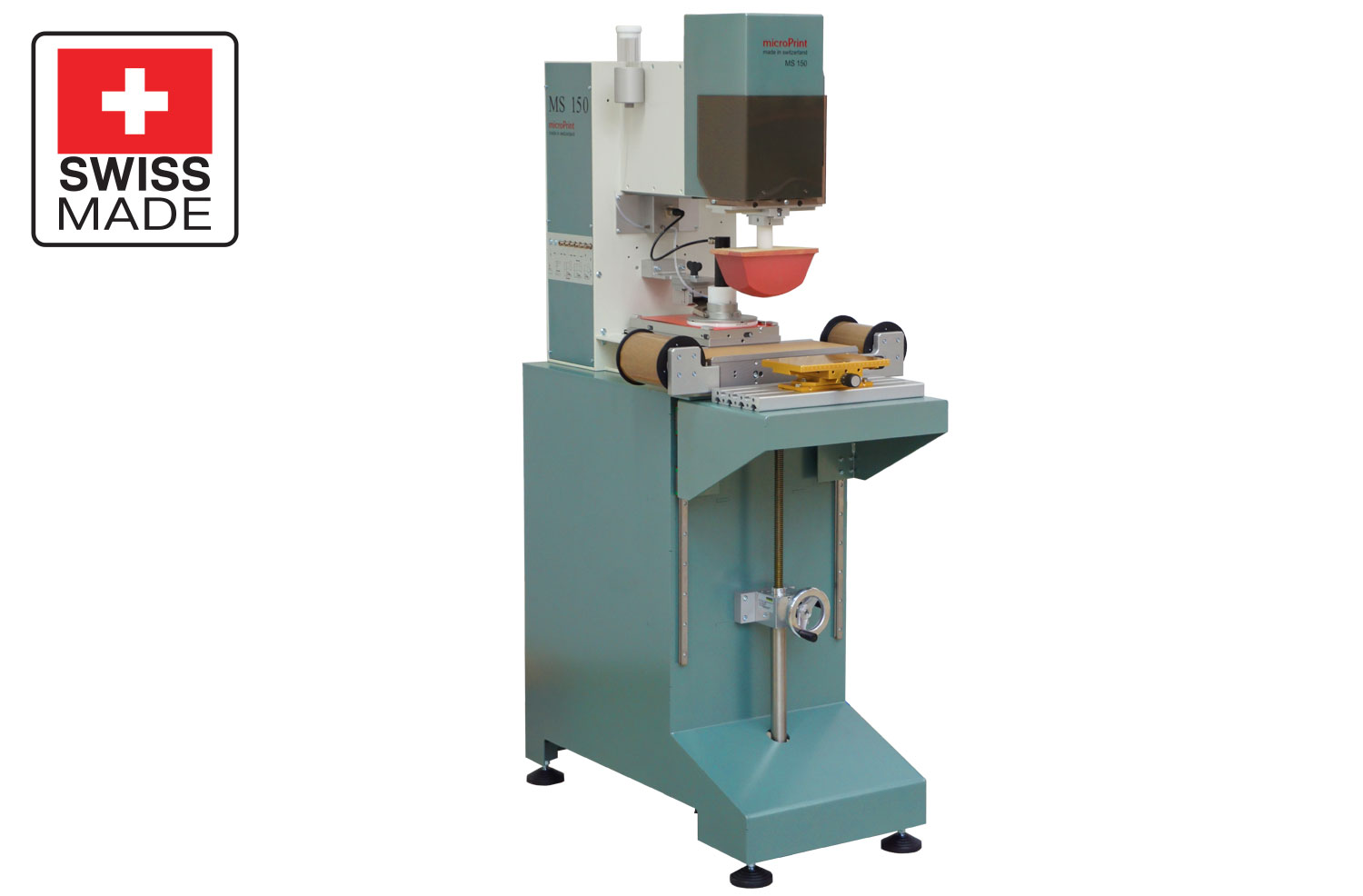 Machine Type: 1 Color Pad Printing Machine
Manufacturer: microPrint
Origin: Made in Switzerland
The microPrint MS-150 pad printing machine is outfitted with a 140mm (5.5") magnetic ink cup and a max cliché size of 150 x 300mm. It is perfectly suited as a stand-alone 1 (one) color pad printing machine, or it can easily be integrated into an automated system with an on-board interface port as standard. Automatic pad cleaning and ink viscosity control are also available.
The MS-150 is precision crafted in Switzerland and it is built on a laser cut and laser welded robust steel machine frame that is powder coated and stands up well to solvents. The MS-150 is a compact, fast and precision built pad printing machine that ideally suited for pad printing on medical devices, interior or exterior automotive components, electronic components, injection molded parts and more.
features
Programmable automatic pad cleaning device
Pad print ink viscosity control software (standard)
Fast cliché changeover without tools
Open loading area for easy part loading by hand or by molding machine robot
Touch screen control with graphical icons
X/Y/R cliché holder and X/Y/R pad adjustment
Automation interface with RS-232 port
Precision crafted in Switzerland
microPrint rewrote the book on pad printing technology with their many innovations, and today microPrint is the world leader in providing innovative solutions for the discerning pad printing machinery customer. Give the experts at Deco Tech a call at (714) 639-DECO to learn more about the MS-150 pad printing machine.
Specifications
Technical Data
MS-150
Printing Capacity:
up to 1,300 pph
Drive:
Pneumatic
Printing Force:
max. 1100 N
Air supply
5-6 bar (87 psi)
Air Consumption:
2 cfm @ 80 psi
Control system:
PLC 24V
Power connection:
110-240V 50-60 Hz.
Control voltage:
24 VDC
Weight:
Weight with stand:
97 Kg. (214 lbs.)
165 Kg. (363 lbs.)
Plate size with ink cup:
150 x 300mm max.
Plate size with inkwell:
TBA
Plate Thickness:
0.5 or 10mm

Ink cup sizes (diameter):
1 x 56mm (2.20")
1 x 70mm (2.75")
1 x 86mm (3.38")
1 x 120mm (4.72")
1 x 140mm (5.51")

Print sizes (diameter):
1 x 50mm (1.96")
1 x 60mm (2.36")
1 x 76mm (2.99")
1 x 110mm (4.33")
1 x 130mm (5.11")