LCN-131
Pad
Printing
Machine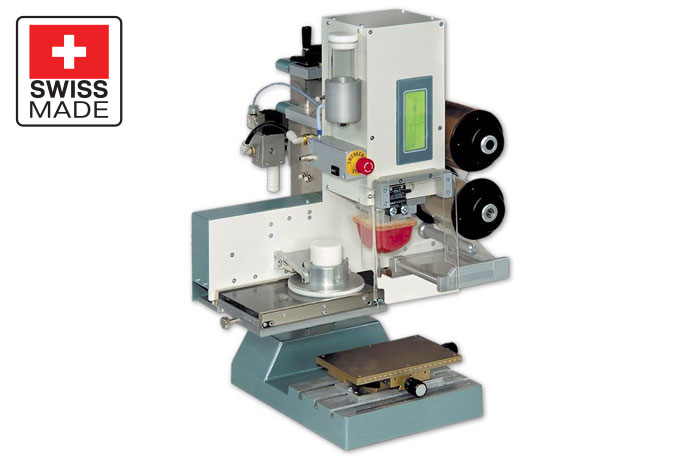 Machine Type: 1 color Pad Printing Machine
Manufacturer: microPrint
Origin: Made in Switzerland
The microPrint LCN-131 is the most intelligent pad printing machine ever built.

When microPrint first introduced the LC Series line of pad print machinery back in 1995, the world of pad print equipment virtually changed overnight… Finally there was a line of pad printing equipment available that could control all of the production problems associated with the pad printing process.

The unique LCN-131 is a compact pad printer that answers all of the complaints concerning the pad printing process. Here are a few highlights of the key features:
Features
Automatic pad cleaning without production loss
Fast cliché plate changeover without any tools
Easily integrated into any automation system
Simple to use graphical operator interface
X/Y/R cliché holder adjustment
The LC Series pad printing machines were the cornerstone on which microPrint built their worldwide success. Today microPrint has emerged as the leader in innovation for the pad printing marketplace.
Specifications
Technical Data
LCN-131
Printing Capacity:
up to 2,500 pph
Drive:
Pneumatic
Printing Force:
max. 450 daN at 6 bar
Air supply
5-6 bar (87 psi)
Air Consumption:
2 cfm @ 80psi
Control system:
PLC 24V
Power connection:
110-240V 50-60 Hz.
Control voltage:
24 VDC
Weight:
Weight with stand:
31 Kg. (68 lbs.)
51 Kg. (112 lbs.)
Plate size with ink cup:
130 x 230mm max.
Plate size with inkwell:
Special Order Only
Plate Thickness:
0.5 or 10mm
Ink cup sizes (diameter):
86mm (3.38")
120mm (4.72")
Print sizes (diameter):
76mm (2.99")
110mm (4.33")