Special
Varnish
for
Pad
Printing
on
Silicone
-
PC140-7117/05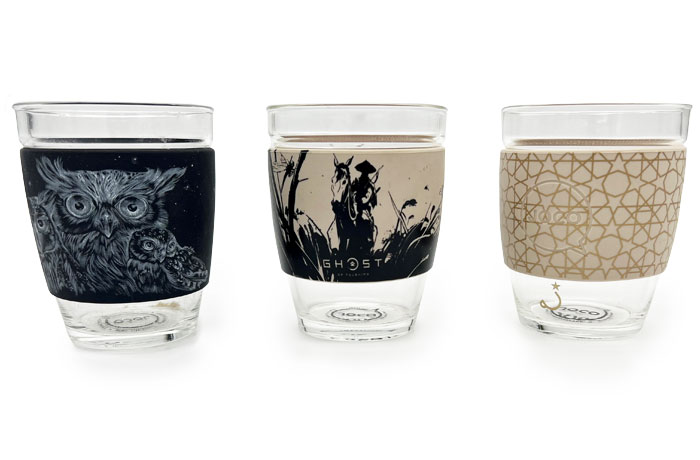 Pad Printing and Screen Printing solution for products with silicone material.
Deco Tech offers a printing ink solution for pad printing or screen printing on silicone with the High Performance Swiss made Printcolor ink series 792 and their PC140-7117/05 special varnish/ additive. Details are below regarding the mix ratio and curing. This additive allows for excellent ink adhesion onto Silicone, Soft-Touch Coatings and Thermoplastic Elastomers (TPE). Printing applications include Silicone cookware, silicone drinkware, silicone phone & tablet cases and more. The PC140-7117/05 varnish is extremely user friendly and provides excellent adhesion, chemical resistance and dishwasher resistances.
Silicone
Cup
Sleeve
Printing
There has been a major rise in popularity of glass coffee cups outfitted with silicone sleeves. Whether it is a portable ceramic coffee cup or a ceramic tumblers with a silicone sleeve, you have found the right place to get your coffee mugs or tumblers custom decorated.
Tips
for
printing
on
silicone
| Tips for printing on Silicone | Mixing Ratio / Percentage |
| --- | --- |
| Printcolor 792 series ink & PC140-7117/05 Varnish: | 1:1 |
| PC700-HDA hardener: | 10% by weight |
| Universal Thinner GS-017 | 10-15% by weight |
| GS-019 thinner (fast speed thinner) | Can be blended with GS-017 for a total of 10-15% |
| PC10-03432 (slow speed thinner) | Recommended when screen printing 1-5% max |
| Oven Curing Time | Recommend 15 minutes at 250 degrees F |
It is important to remember to NOT use more thinner than recommended above, as our extensive tests have shown that when you add too much thinner it will not perform well. In some cases, you may not need to full oven cure. If that is the case, it is recommended to place the printed parts in a conveyor dryer or in front of a fan to speed up evaporation of the thinner and get a quick flash drying. Tests must be conducted to find the suitable curing process and for running your silicone parts through a dishwasher, oven curing is a must.
The PC140-7117/05 varnish and Printcolor pad printing ink series 792 is in stock and ready to ship! Please contact us 714-639-DECO to place an order.