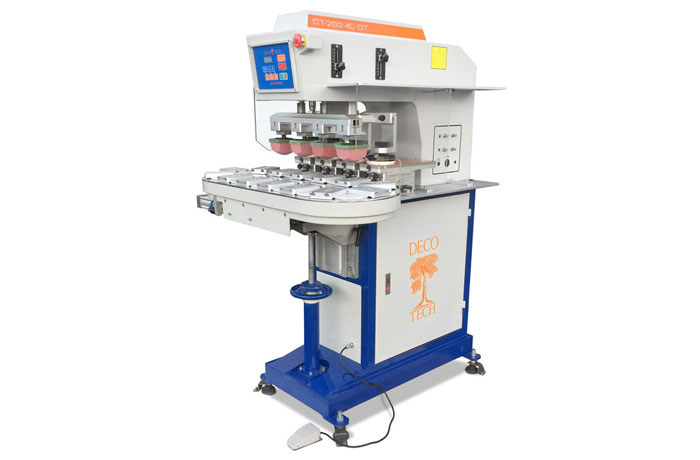 Four color large image pad printing machine with oval race track.
Machine Type: Semi-Automatic Pad Printing Machine
Brand: Deco-Tech
Origin: Built in China with World-Class Components
The DT-200-4C-OT 4 color pad printing machine is equipped with a servo driven 14 station oval track indexer, that has four locking cams in each of the four print stations, and this Oval Track (OT) indexed machine is well suited for printing small parts in 1 to 4 colors. This is a popular machine for the decorating of skateboard wheels and other small ASI goods such as, lighters, ice scrapers, mint tins, and much more. We have recently updated the DT-200-4C-OT machine to now feature a Mitsubishi PLC with a Weinview touch screen. The pad stroke controls are easily accessible on the right side of the machine with numerical calibration and the DT-200-4C-OT pad printer comes with a solid built welded steel machine base with adjustable floor levelers and a height adjustable worktable. The DT-200-4C-OT is equipped with four 90mm ink cups and with four 100 x 300mm individually adjustable (X/Y/R) cliché holders that are adjustable for precise artwork alignment on-press. The clichés can be made from; photo polymer, thin steel (0.5mm), thick steel (10mm) or laser etched varieties and Deco Tech provides a full array of pad printing consumable supplies, technical support & product training for our DT SERIES of pad printing machinery. This Deco Tech brand pad printing machine is backed with a one year warranty against defects in manufacturing. Call the experts at (714) 639-DECO to find out more.
Advantages
Mitsubishi PLC controlled with Weinview touch screen
14 station Servo driven indexer
4 x Cam locking stations in each print station
Festo brand pneumatics
Easily accessible pad stroke adjustments
X/Y/R/Z work table
4 x X/Y/R cliché adjustment
Smooth & quiet machine performance
Fully Guarded to OSHA standards
Specifications
Technical Data
DT-200-4C-OT
Printing Capacity:
up to 1,200 pph
Drive:
Electro-Pneumatic
Printing Force:
1,559N
Pad stroke:
200mm (7.87")
Air supply
5 (72.5 psi)
Air consumption:
3 cfm @ 80 psi
Power connection:
110V 60Hz
Control voltage:
12 VDC
Weight:
220 kg (484 lbs)
Plate size with ink cup:
100 x 300mm (5.12"x11.81")
Plate Thickness:
0.5mm or 10mm
Ink cup sizes (diameter):
82mm (3.23")
Print sizes (diameter):
75mm (2.95")