X-POSE-200W
Exposure
Unit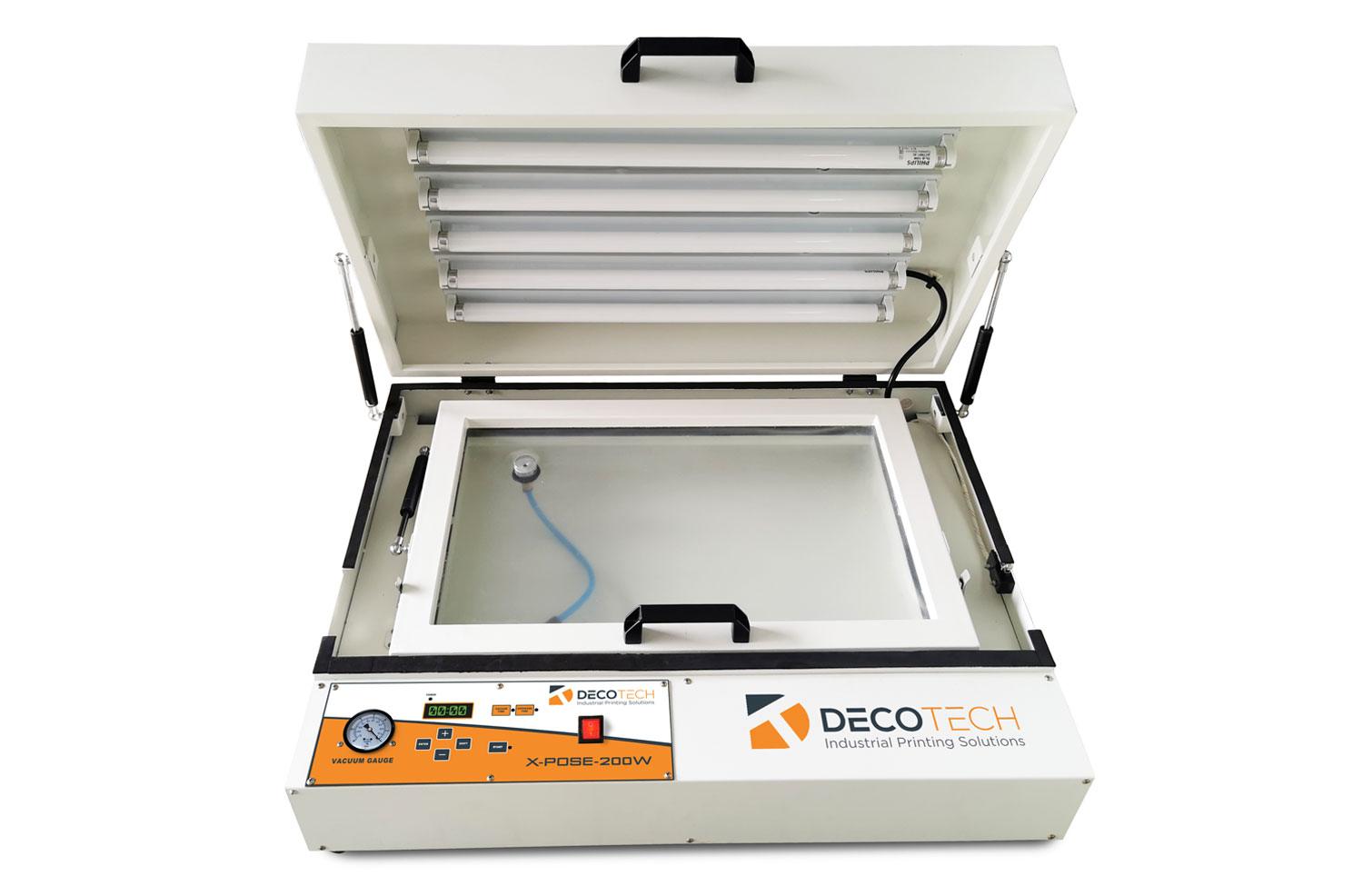 Exposure unit for pad printing plates up to 300 x 500mm
Machine Type: X-POSÉ™ Exposure Unit
Brand: Deco Tech
Origin: Built in China with World-Class Components
Our X-POSÉ™ exposure unit is equipped with advanced features that have been thoughtfully designed to optimize the pad printing plate etching/ exposure process. These features include an on/off power switch, programmable vacuum and exposure time values, voltage indicator and automatic vacuum release when the exposure process is done. Our X-POSÉ™ exposure unit has been engineered to meet exact specifications for optimal performance. The X-POSÉ™ exposure units also feature an attractive low-profile powder coated steel enclosure for durability and long life. Additionally, as a safety feature our X-POSÉ™ exposure systems feature a safety switch to bypass the UV lights if the cover is inadvertently lifted during operation.
Operation of the X-POSÉ™ exposure unit is straightforward. You simply place the cliché and film inside the blanket cover, close the lid and turn on the vacuum pump, set the digital timer value (in seconds), and press the start button. The integrated vacuum pump first removes the air from the blanket/ chamber to ensure perfect contact between the film positive and the pad print plate. After proper vacuum level has been reached the UV exposure cycle automatically begins and shuts itself off when the timer cycle ends.
To find out more, call the experts at Deco Tech at (714) 639-DECO.
Specifications
| Technical Data | X-POSE-200W |
| --- | --- |
| Table Dimensions: | 440 x 650mm (17.3" x 25.6") |
| Total UV Power: | 200 Watts |
| Unit Dimensions (LxWxH): | 800 x 640 x 250mm (31.5" x 25.2" x 9.8") |
| Weight: | 71.7 lbs (32.5 kg) |
| Power: | 110V-120V 50Hz |
| Timer: | Digital |
| Max. Cliché Size: | 300 x 500mm (11.8" x 19.7") |
| Lamp Type: | 5 x 40W High Powered UV Fluorescent Tubes |