ML-350
Motor
Driven
Pad
Printing
Machine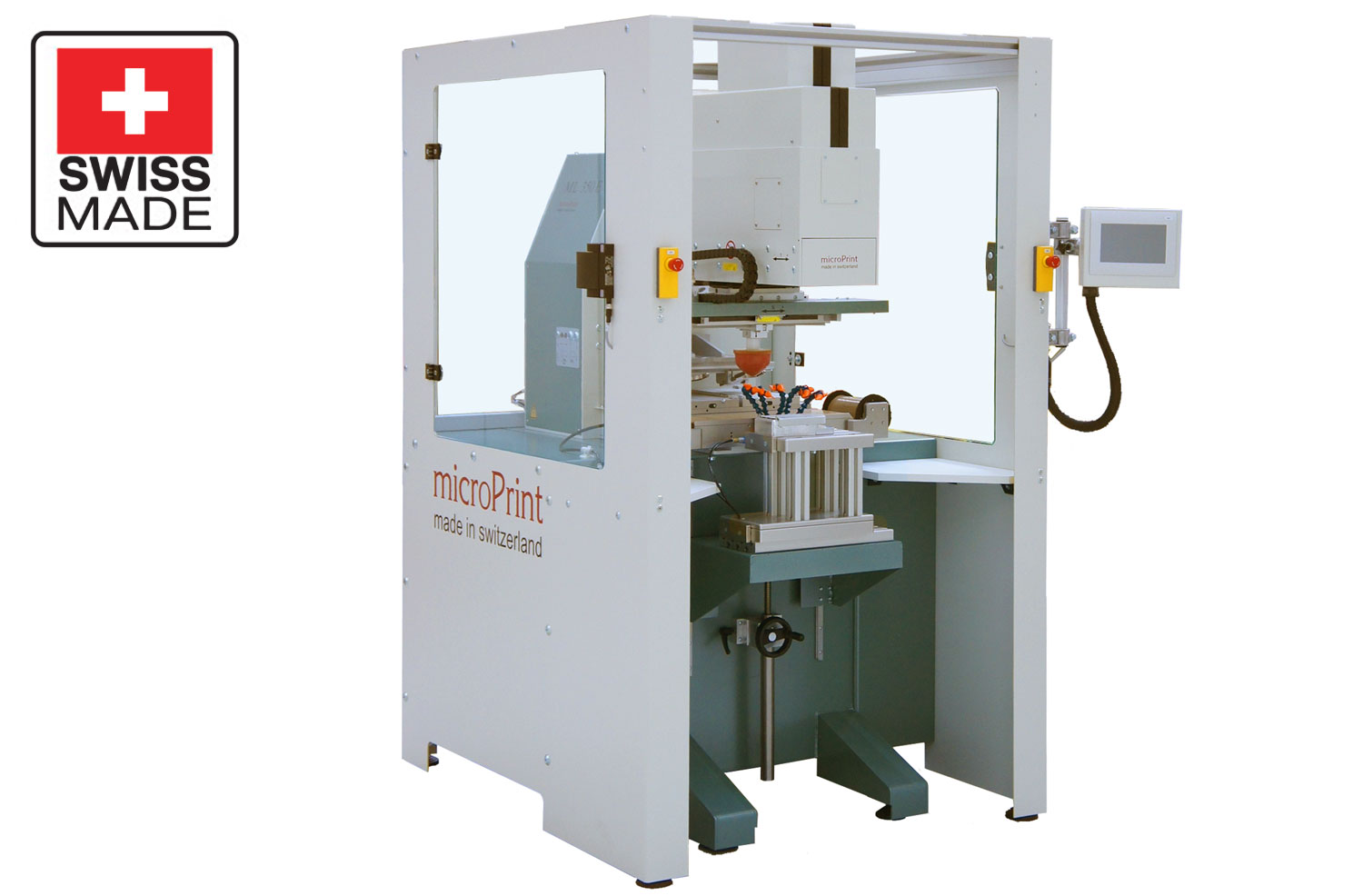 Machine Type: Motor Driven Multi Color Pad Printing Machine
Manufacturer: microPrint
Origin: Made in Switzerland
The ML-350 linear motor driven pad printer from microPrint is a universal single or multi-color modular pad printing machine that features a hybrid control drive system with both linear motor control and pneumatic control. The ML-350E is linear motor driven in the horizontal axis and servo motor driven for the vertical axis (print stroke). The ML-350 and ML-350E can be set up with several closed ink cups or even with an open inkwell. Furthermore, you can also outfit this pad printing machine with a linear cup slide for pad printing long objects such as a catheter tube. The ML-350 closed ink cup pad printing machines are Precision Swiss built and they can be outfitted with the following ink cup sizes:
6 color closed ink cup x 56 mm diameter
5 color closed ink cup x 70 mm diameter
4 color closed ink cup x 86 mm diameter
3 color closed ink cup x 120 mm diameter
2 or 1 color closed ink cup x 120 mm diameter

The ML-350 and ML-350E pad print machinery come equipped with fully integrated automatic tape pad cleaning system and Viscomatic ink viscosity control system (both are optional). The ML-350 can also be set-up with a multi axis robot, Servo-driven linear part shuttle or a Servo driven Carousel, which is an oval racetrack style multi-fixture part indexer. microPrint rewrote the book on pad printing equipment, and they are continually developing new innovations to allow the pad printing process to perform better in the real world. Call the experts at (714) 639-DECO to find out more.
FEATURES
Fast Job changeovers with all parameters stored in the PLC
Lightning-fast production speeds with linear and servo motor controls
Crafted with precision and care in Switzerland, ensuring the highest quality of workmanship
Automatic Pad Cleaning & Ink Viscosity controls for easy maintenance and improved performance
Intuitive touchscreen interface for easy navigation and control
Laser cut & welded construction for superior strength and durability
Interfaced into an automated system quickly with built in RS-232 port
World class components to ensure maximum reliability and performance
Specifications
Technical Data
ML-350
ML-350E
Printing Capacity:
up to 1,450 pph
TBA
Drive:
Linear motor & Pneumatic
Linear motor & Servo Motor
Printing Force:
1,100 N Max
TBA
Air supply
5-6 bar (87 psi)
5-6 bar (87 psi)
Air Consumption:
3 cfm @ 80 psi
1 cfm @ 80 psi
Control system:
PLC 24V
PLC 24V
Power connection:
230V 3 phase 50-60Hz
230V 3 phase 50-60Hz
Control voltage:
24 VDC
24 VDC
Weight print head:
Weight with safety cell:
170 Kg. (375 lbs.)
610 Kg. (1,345 lbs.)
190 Kg. (420 lbs.)
640 Kg. (1,411 lbs.)
Plate size with ink cup:
420 x 250mm max.
420 x 250mm max.
Plate size with inkwell:
350 x 120mm max.
350 x 120mm max.
Plate Thickness:
0.5 or 10mm
0.5 or 10mm
Ink cup sizes (diameter):
6 x 56mm (2.20")
5 x 70mm (2.75")
4 x 86mm (3.38")
3 x 120mm (4.72")
Print sizes (diameter):
6 x 50mm (1.96")
5 x 60mm (2.36")
4 x 76mm (2.99")
3 x 110mm (4.33")
Print sizes (diameter):
6 x 50mm (1.96")
5 x 60mm (2.36")
4 x 76mm (2.99")
3 x 110mm (4.33")