LCN-133
Pad
Printing
Machine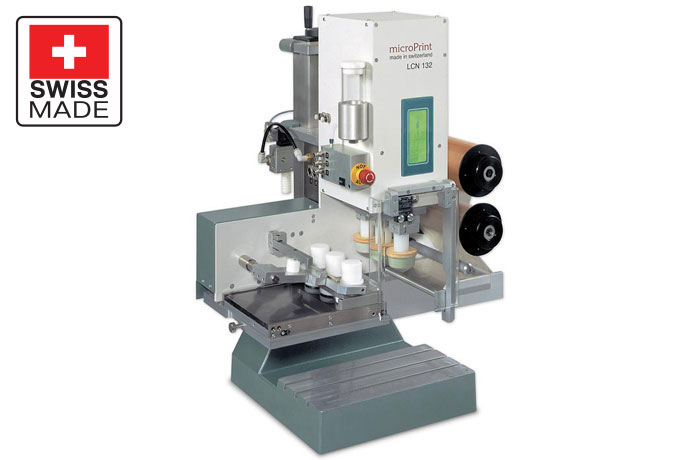 Machine Type: Multi Color Pad Printing machine
Manufacturer: microPrint
Origin: Made in Switzerland
microPrint's model LCN-133 was specially designed as a 1, 2 or 3 color pad printer and it's based upon the other LC Series machines detailed above (namely the LCN-131 pad printer and LCN-151 pad printer). This specially designed pad transfer printer was borne out of a large customers specific production needs.

This Fortune 500 customer requested that microPrint build them a pad printer that needs (virtually) no human intervention during the production run…

This challenge was quickly taken from design phase to reality phase within just 10 weeks and today this customer is one of microPrint largest worldwide, with over 120 machines at their various facilities!

These LCN-133 pad printing machines were interfaced into fully automated part assembly and pad printing production cells which are run "lights-out" with no machinery operators present. After being pad printed with the 3 colors (one color in each cup) these consumer electronic parts (primarily electric razor housings) are 100% camera inspected to check for printing quality. On these production lines, the microPrint machinery produces less than .5% scrap rate and total efficiency.

microPrint was selected as their sole-supplier worldwide because of their unique ability to provide pad printing equipment that perform with near zero defects, by better controlling ALL of the process variables. These key features help to make this high-performance level possible:
Features
Programmable Tape Pad Cleaning Device
Module design with central post
RS 232 automation interface connector
No tools needed for machine set-up
Interlocked safety guards (CE approved)
Touch Screen interface with easy icons
Since 1995 microPrint of Switzerland has been successfully crafting a complete range of "intelligent pad printing machines" that will completely control the pad printing process. microPrint rewrote the book on pad-printing technology and they continually bring forth new innovations to the pad printing marketplace.

Call us now at (714) 639-DECO to find out more about microPrint's remarkable line of pad transfer printing machines, and let us prove to you that we have what it takes to keep your pad print department running smoothly.
Specifications
LCN-132
Technical Data
LCN-133
Printing Capacity:
up to 1,800 pph
Drive:
Pneumatic
Printing Force:
1,100 N Max
Air supply
5-6 bar (87 psi)
Air Consumption:
2.3 l/cycle
Control system:
PLC 24V
Power connection:
110-240V 50-60 Hz.
Control voltage:
24 VDC
Weight:
Weight with stand:
42 Kg. (93 lbs.)
62 Kg. (137 lbs.)
Plate size with ink cup:
200 x 300mm max.
Plate size with inkwell:
Special Order Only
Plate Thickness:
0.5 or 10mm
Ink cup sizes (diameter):
3 x 56mm (2.20")
2 x 86mm (3.38")
1 x 120mm (4.72")
Print sizes (diameter):
3 x 50mm (1.96")
2 x 76mm (2.99")
1 x 110mm (4.33")