5-Star
Servo
Driven
Multi
Color
Pad
Printing
System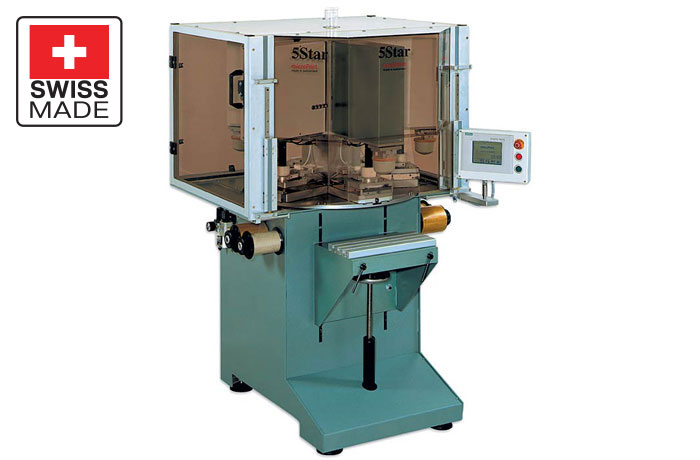 Machine Type: Servo indexed Rotary Pad Printing workstation
Manufacturer: microPrint
Origin: Made in Switzerland
To quote one of our very good customers, "The microPrint 5-STAR is the most innovative & versatile pad printing machine I have ever seen… and I've seen them all!"
The innovative microPrint 5-STAR is a precision built servo-driven rotary indexing pad-printing machine that is a true workhorse. The 5-STAR is the perfect Swiss Army Knife for any progressive injection molding house, toy manufacturer or custom decorating house. The 5-STAR can quickly be set-up to run a single color or two color job, and then a few minutes later, it can be set-up to run a complex 5 color tight registration pad-printing job, such as a four color process job with a white background. This type of versatility and flexibility is not typically realized in most production facilities that pad print unless they own a microPrint 5-STAR.

The UNIQUE 5-STAR pad printer has been designed, with 5 pad printing heads that rotate (controlled via servomotor) on a rotary dial, and each print head can be controlled individually. In one print head (or all) you can program the machine to do a single or double print stroke and directly from the touch screen you can independently control all the machines parameters, including:
Advantages
Individual Pad-to-Part stroke length
Individual Pad-to-cliché stroke length
Individual Pad stroke delays (before & after print)
Single or multiple "hits" of colors
(great for white backgrounds)
Automatic pad cleaning after each and every print
Servo controlled back & forth motion for
fast 2-color printing*
One touch control to bypass any number of print stations
* with optional 2nd tape cleaner added
The VERSATILE 5-STAR pad printing workstation stands uniquely opposed to most traditional 'linear' pad printers (like our ML-350 or ML-500 for example), whereby the parts to be printed travel around on a racetrack or carousel indexer (typically equipped with 14 or more expensive CNC built nesting fixtures) or a single part is "shuttled" from station to station. On these industry typical 'linear pad printers' you cannot double print and you cannot individually control all of the machines parameters individually, as the printer will pick up all of the colors at one time and then transfer them to the part at one time.

So, by having the microPrint 5-STAR in your quiver of pad printing machinery, you can realize the ultimate in flexibility and performance, coupled with low tooling costs and fast job changeovers (as job data can be stored in the PLC).
Specifications
Technical Data
5-STAR
Printing Capacity:
1 color up to 2,100 pph
2 color up to 1,000 pph
3 color up to 860 pph
4 color up to 720 pph
5 color up to 600 pph
Drive:
Servo indexed & Pneumatic
Printing Force:
1,100 N Max
Air supply
5-6 bar (87 psi)
Air Consumption:
3.2 l/cycle
Control system:
PLC, Touch Screen
Power connection:
110-240V 50-60 Hz.
Control voltage:
24 VDC
Weight:
435 Kg. (957 lbs.)
Plate size with ink cup:
130 x 250mm max.
Plate size with inkwell:
Special Order Only
Plate Thickness:
0.5 or 10mm
Ink cup sizes (diameter):
86mm (3.38")
120mm (4.72")
Print sizes (diameter):
76mm (2.99")
110mm (4.33")