MS-130
Pad
Printing
Machine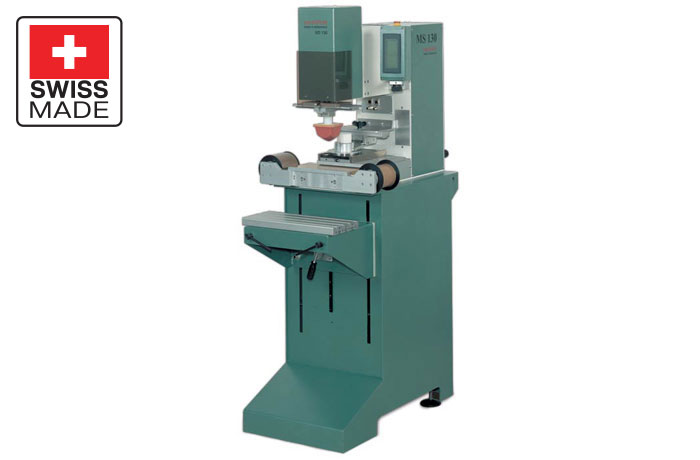 Machine Type: 1 Color Pad Printing Machine
Manufacturer: microPrint
Origin: Made in Switzerland
The microPrint MS-130 pad printing machine is perfectly suited as a stand-alone 1 (one) color pad printing press.

"MS" = Modular System and these modular pad printing machines can grow with optional features as your printing needs and demands grow. For example MS Series machines can be outfitted with:
Programmable automatic pad cleaning device
VISCOMATIC™ ink viscosity control system
The MS-130 can start out a 1 color low cost pad printer, but you can later make it a 2 color pad printer by simply adding a bigger plate holder, additional pad X/Y block and a 2 position shuttle device (move pad or part). The model MS-250 (see below) is built on the same laser cut precision frame, except the air cylinder (pad compression) is larger on the model MS-250 to allow for multi-color pad printing up to 4 colors (56 mm diameter ink cups).

The MS-130 is compact, fast and precision built and is ideally suited for pad printing on medical devices, automotive components, advertising specialty items & other injection molded parts.
features
Programmable automatic pad cleaning device
Fast cliché changeover without tools
Pad print ink viscosity control software
Open loading area for easy part loading
Touch screen control with graphical icons
X/Y/R cliché holder and X/Y/R pad adjustment
Automation interface with RS-232 port
microPrint rewrote the book on pad printing technology with their many innovations, and today microPrint is the world leader in providing innovative solutions for the discerning pad printing machinery customer.
Specifications
Technical Data
MS-130
Printing Capacity:
up to 2,000 pph
Drive:
Pneumatic
Printing Force:
max. 420 N
Air supply
5-6 bar (87 psi)
Air Consumption:
2 cfm @ 80 psi
Control system:
PLC 24V
Power connection:
110-240V 50-60 Hz.
Control voltage:
24 VDC
Weight:
Weight with stand:
65 Kg. (143 lbs.)
135 Kg. (298 lbs.)
Plate size with ink cup:
130 x 250mm max.
Plate size with inkwell:
130 x 120mm max.
Plate Thickness:
0.5 or 10mm
Ink cup sizes (diameter):
2 x 56mm (2.20")
1 x 70mm (2.75")
1 x 86mm (3.38")
1 x 120mm (4.72")
Print sizes (diameter):
2 x 50mm (1.96")
1 x 60mm (2.36")
1 x 76mm (2.99")
1 x 110mm (4.33")